March 27, 2019
NAFCU meets with key decision makers on housing finance reform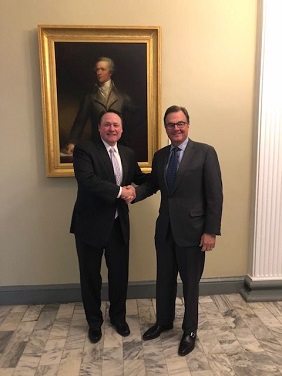 NAFCU President and CEO Dan Berger and other NAFCU leaders are following yesterday's meeting with Treasury Department Counselor Craig Phillips with one today with Federal Housing Finance Agency (FHFA) Acting Director Joseph Otting, again focused on housing finance reform efforts.
NAFCU Vice President of Legislative Affairs Brad Thaler and Director of Regulatory Affairs Ann Kossachev also attended yesterday's meeting. Kossachev will attend today's meeting along with Berger.
In addition to general reform efforts, the association and Phillips Tuesday discussed congressional efforts to modernize the Community Reinvestment Act (CRA) – including NAFCU's strong opposition to extending CRA regulations to credit unions.
Berger and Kossachev will meet with Otting today to further discuss NAFCU's 2019 priorities and goals for housing finance reform. Last month, Berger stressed the importance of maintaining credit unions' access to the secondary mortgage market and the relationship credit unions have with government-sponsored enterprises (GSEs) in a letter sent to Otting.
NAFCU continues to lead efforts for housing finance reform advocacy this week. Executive Vice President of Government Affairs and General Counsel Carrie Hunt is set to testify before the Senate Banking Committee on housing finance reform today, reiterating the association's core principles for housing finance reform that should be included in any final reform measures (read more here).
NAFCU has called on the administration to work with Congress to develop a comprehensive solution to reforming the housing finance system.
Related Resources
---
Get daily updates.
Subscribe to NAFCU today.