July 16, 2020
NAFCU reiterates housing market concerns ahead of oversight hearing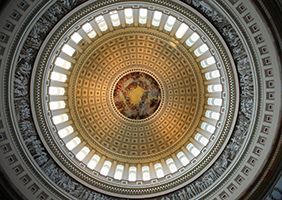 Ahead of the House Financial Services Oversight Subcommittee hearing today on mortgage servicers and ongoing efforts to protect homeowners amid the coronavirus pandemic, NAFCU Vice President of Legislative Affairs Brad Thaler reiterated several of NAFCU's concerns on key housing issues affecting credit unions.
The virtual hearing, set to begin at 12 p.m. Eastern, will be available via live webcast on the committee's website.
In the letter sent to House Financial Services Subcommittee on Oversight and Investigations Chairman Al Green, D-Texas, and Ranking Member Andy Barr, R-Ky., Thaler called on the subcommittee to urge the Federal Housing Finance Agency (FHFA) to examine its loan level price adjustment (LLPA) fee structure and consider a lower LLPA. This change, Thaler noted, would "accommodate community lenders like credit unions and ensure they are still able to access the secondary mortgage market and make more loans to their members."
Thaler also highlighted NAFCU's continued concern about the impacts of sections of the CARES Act that provide borrowers with forbearance options for single-family and multifamily loans sold to the government sponsored enterprises (GSEs). Since the CARES Act was enacted at the end of March, NAFCU has shared with Congress concerns about the health of mortgage markets and the need to provide credit unions with additional relief. 
In addition, Thaler reiterated NAFCU's call for the FHFA and the GSEs to remain as transparent as possible with respect to expectations for mortgage servicers amid the pandemic.
As the CFPB last month issued proposed rules to revise the definition of a qualified mortgage (QM) and address the upcoming expiration of the GSE Patch, Thaler noted that the addition of an emergency QM standard "can establish safe and sound lending procedures within the context of the current crisis and allow credit unions a measure of insulation from future litigation related to the ability-to-repay requirements." NAFCU had previously called on Congress to establish an emergency QM standard with flexible requirements and extend the temporary GSE QM patch if the CFPB did not provide one in its rulemaking.
NAFCU will monitor today's hearing and continue working with Congress to ensure credit unions' concerns are heard.
Related Resources
Accounts Operations Consumer Lending
Blog Post
Credit Unions, Board of Directors, Web/Tech, Organizational Change, Merger
preferred partner
DDJ Myers
Blog Post
---
Get daily updates.
Subscribe to NAFCU today.