December 26, 2018
NAFCU rep reiterates importance of CU access to secondary market to lawmakers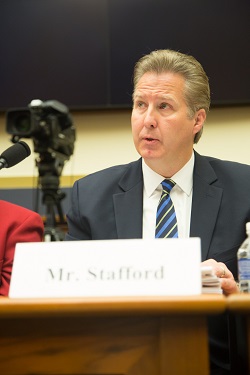 NAFCU witness Rick Stafford, president and CEO of Tower Federal Credit Union (Laurel, Md.), reiterated the importance of ensuring credit unions' access to the secondary mortgage market in any housing finance reform during a House Financial Services Committee hearing last week.
"It is utmost important that a healthy, sustainable and viable secondary mortgage market for credit unions is maintained. To achieve this, credit unions must have guaranteed access to the secondary mortgage market," Stafford stressed.
Last week's hearing, the last scheduled hearing for the committee this Congress, focused on draft legislation from House Financial Services Committee Chairman Jeb Hensarling, R-Texas. The proposal would preserve a NAFCU-sought explicit government guarantee on mortgage-backed securities (MBS) and seeks to protect lending opportunities for small lenders.
During his testimony, Stafford shared again with lawmakers NAFCU's core principles for housing finance reform, which it believes should be included in any reform effort to guarantee the continued safety and soundness of the credit union industry.
Specifically related to the proposal, the Bipartisan Housing Finance Reform Act, Stafford cautioned against Ginnie Mae and the Federal Housing Finance Agency (FHFA) becoming "a de facto dual-regulator structure that has the potential to create confusion and conflicting directives for the market."
"NAFCU's principles include the need for a single independent regulator that can provide stability and confidence in the market," Stafford said.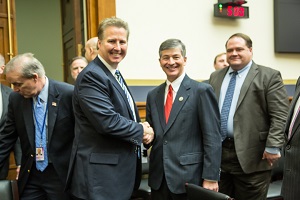 In addition, Stafford shared concerns about the costs and workability of transitioning to a new housing finance system and encouraged flexibility. He said that "any increased costs associated with establishing a new housing finance system be minimized so as to not increase the cost of borrowing for consumers, not serve as a barrier to entry for small lenders, and not allow large lenders to dominate the system."
During questioning, Stafford was asked about credit unions' opinion on 30-year fixed rate mortgages by Rep. Brad Sherman, D-Calif.
"It's the backbone of the mortgages that we provide," Stafford responded. "Without the 30-year mortgage it would be very difficult for many of our members to afford housing. The industry would have to be forced to have more qualified mortgages on their books … which would limit some of our lending capabilities."
House Financial Services Subcommittee Chairman Blaine Luetkemeyer, R-Mo., also raised concerns about how the current expected credit loss (CECL) accounting standard could impact lending. Stafford acknowledged that CECL increases the regulatory burden on credit unions; NAFCU continues to seek an exemption from the standard for credit unions.
Stafford's testimony was NAFCU's 12th overall time testifying during the 115th Congress. He also testified in October 2017 during a hearing on housing finance reform priorities before a House Financial Services subcommittee.
NAFCU will continue to work with Congress and regulators to ensure credit unions' priorities for housing finance are included in any reform.
Related Resources
---
Get daily updates.
Subscribe to NAFCU today.