March 24, 2021
NAFCU to Senate Small Biz: Exclude COVID loans from CUs' MBL cap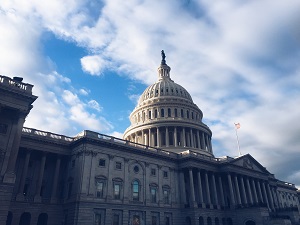 Ahead of today's Senate Small Business Committee hearing with representatives from the Small Business Administration (SBA) to discuss the agency's coronavirus relief programs, NAFCU's Brad Thaler pushed for lawmakers' support of legislation that would allow credit unions to expand access to credit to small businesses in their communities.
Thaler, NAFCU's vice president of legislative affairs, touted legislation introduced in the House earlier this month that would exclude credit union member business loans made in response to COVID-19 relief from credit unions' member business lending (MBL) cap. Similar legislation was introduced in both chambers last year and has the support of the NCUA.
"We urge adoption of this commonsense proposal to extend longer term liquidity to small businesses without costing the taxpayer," Thaler wrote.
In addition to asking for support of MBL relief, Thaler reiterated NAFCU's recommendations to make the paycheck protection program (PPP) more effective. He thanked lawmakers for ensuring credit unions' participation in the program – "credit unions have been able to extend desperately needed liquidity to small businesses through the PPP that were not being helped or had been turned down by large institutions," he highlighted – and for taking steps to simplify the program's forgiveness process.
"…[T]he forgiveness process through SBA still remains cumbersome and urge you to implore the SBA to streamline this process," Thaler added. "We have heard from many of our members that the loan forgiveness process is still in need of administrative simplification and there has been an inconsistency in the length of time SBA is taking to administer forgiveness."
Thaler also flagged delays in PPP processing as the SBA has implemented automated checks on all applications that can result in hold codes being placed on applications and needing to be resolved by lenders and the SBA.
"We are concerned that many loans with a hold code or submitted near the deadline could remain outstanding when the authorization expires, locking out eligible small businesses," Thaler said, as he highlighted how the PPP Extension Act – passed by the House and expected to be voted on in the Senate this week – could help address the issue.
Today's hearing is set to begin at 2:30 p.m. Eastern and will be livestreamed on the Senate Small Business Committee's website. SBA officials from its Offices of Capital Access and Disaster Assistance, as well as its Inspector General, are set to testify. NAFCU will monitor the hearing and keep credit unions informed of key discussions.
Related Resources
---
Get daily updates.
Subscribe to NAFCU today.