December 03, 2018
NAFCU set to testify on housing finance reform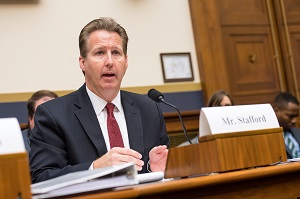 UPDATE (12/04/18): This hearing has been postponed and will be rescheduled. NAFCU is still set to testify when the hearing is rescheduled; the association will keep credit unions updated.
NAFCU witness Rick Stafford, president and CEO of Tower Federal Credit Union (Laurel, Md.), will share with lawmakers credit unions' priorities and concerns with a bipartisan housing finance reform bill during a planned hearing Thursday before the House Financial Services Committee.
Congress' schedule this week could change following the passing of former President George H.W. Bush.
This will be NAFCU's 12th overall time testifying during the 115th Congress. Stafford also testified in October 2017 during a hearing on housing finance reform priorities before a House Financial Services subcommittee.
Thursday's scheduled hearing will focus on draft legislation from House Financial Services Committee Chairman Jeb Hensarling, R-Texas, that would preserve a NAFCU-sought government guarantee to the secondary mortgage market and create more lending opportunities for small lenders.
The legislation, the Bipartisan Housing Finance Reform Act, would also repeal the government-sponsored enterprises' (GSEs) charters and would instead use Ginnie Mae as the provider of the explicit government guarantee on mortgage-backed securities (MBS). Currently, Ginnie Mae backs payments of principal and interest to those that invest in the Federal Housing Administration and other government-insured loans.
NAFCU has continually reiterated credit unions' needs for unfettered access to the secondary mortgage market and fair pricing based on loan quality, not quantity. These qualifications, along with an explicit government guarantee on the payment of principal and interest on mortgage-backed securities, are included in NAFCU's housing finance reform principles, which committee members have received.
The association remains engaged with lawmakers and agency officials to ensure credit unions' priorities are reflected in plans as the Trump administration works on housing finance reform; NAFCU recently met with Ginnie Mae Acting President Michael Bright to discuss housing finance issues.
The hearing is set to begin at 10 a.m. Eastern Thursday.