March 17, 2021
NAFCU touts CU difference as bankers launch new attack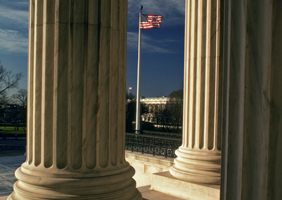 As a banking trade group recently made yet another attempt to stifle credit unions' ability to serve their 124 million members and reach underserved communities by sending a message to the Hill urging lawmakers to subject the credit union industry to more regulations and remove the credit union tax exemption, NAFCU is setting the record straight.
"This is another attempt from bankers to rewrite the narrative with falsities, instead of taking ownership," said NAFCU President and CEO Dan Berger. "The truth is, removing the credit union tax exemption would lead to a $142 billion GDP reduction, costing $38 billion in lost income tax revenue and eliminating 900,000 jobs. Consumer choice and competition is good for economic growth, and consumers are making a conscious choice to seek out a cooperative financial services model where they have a seat at the table.
"While bank lobbyists once again funnel their resources into frivolous attacks, credit unions will continue to do what they do best: Responsibly serve more than 124 million Americans and invest in community outreach efforts – all without having to be told to do so. NAFCU intends to be there with them every step of the way."
Bankers have long tried to eliminate credit unions' tax-exempt status, failing to acknowledge its economic benefits and not disclosing that the banking industry received tens of billions of dollars in annual tax breaks for the Tax Cuts and Jobs Act and nearly one-third of banks are Subchapter S corporations that do not pay corporate income taxes.
There is also renewed effort by bankers to subject credit unions to the Community Reinvestment Act (CRA). NAFCU has repeatedly highlighted that credit unions have not engaged in the illegal and discriminatory practices of banks, including redlining, because credit unions were established to offer provident credit to any member in their field of membership and therefore should not be subject to the CRA. In 2018, the Treasury Department published a list of recommendations for CRA improvements that, as a result of NAFCU's advocacy, did not include extending the law to credit unions. NAFCU has consistently opposed congressional efforts that would extend the law and a policy report from the Cato Institute last year reinforced the association's position.
In response to bank lobbyists' recent efforts to mislead Congress on these issues, NAFCU Vice President of Legislative Affairs Brad Thaler sent a message to Capitol Hill Tuesday to set the record straight. Thaler highlighted the difference between credit unions and banks using the paycheck protection program (PPP) as an example.
"A number of banks turned away 'too small' main street businesses, and credit unions stepped in to help these businesses with the PPP," Thaler wrote. "The average credit union PPP loan in 2020 was $50,000 while the average bank PPP loan was over $100,000. The credit union commitment to serving all is also evidenced by the fact that there are over three times as many minority depository institution (MDI) credit unions as MDI banks."
In addition, since the 2008 financial crisis, banks have been fined more than $243 billion for consumer abuses and risky behaviors that contributed to the crisis. NAFCU will continue to share credit unions' stories on Capitol Hill, touting how they support their members and communities in times of need.
Related Resources
---
Get daily updates.
Subscribe to NAFCU today.