November 04, 2022
NAFCU to Treasury: Work closely with the NCUA regarding digital asset development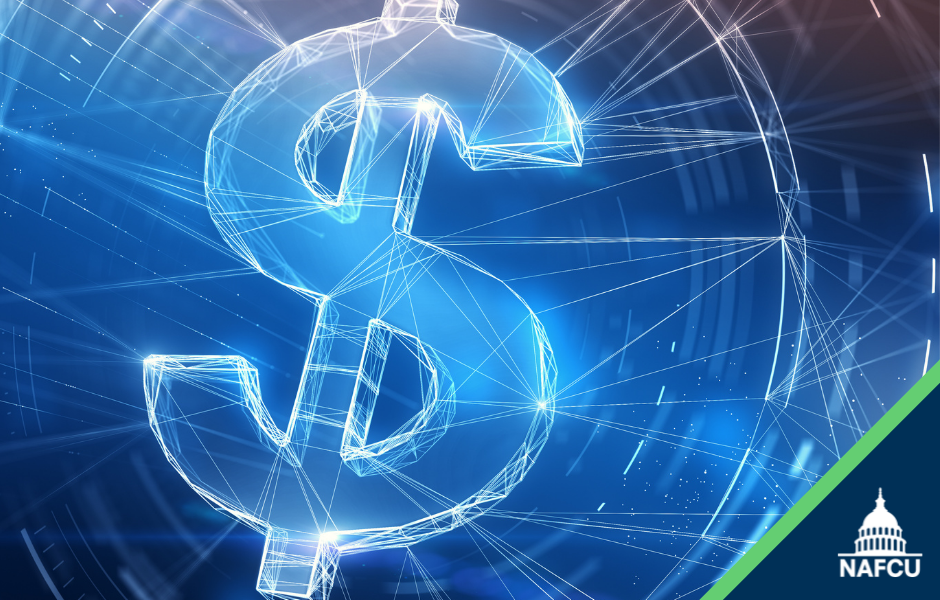 NAFCU Regulatory Compliance Counsel Dale Baker offered comments in response to the Treasury Department's request for comment (RFC) on the responsible development of digital assets, expressing support for Treasury and other regulators applying existing anti-money laundering and countering the financing of terrorism regulations to intermediated digital-assets-related finance applications and activities.
Baker explained that, while the Treasury Department fulfills its consultative requirement under President Joe Biden's Executive Order on Ensuring Responsible Development of Digital Assets, they do not have to "go at it largely alone." Baker urged Treasury to work closely with the NCUA to ensure it does not deter responsible technological innovation or unnecessarily burden the already well-regulated credit union system as it strives to detect, disrupt, and prevent criminals' misuse of digital assets and related technologies.
In addition, Baker highlighted the differences between intermediated digital-assets-related finance applications and activities, like those engaged in by some credit unions, and truly decentralized digital-asset-related finance applications specifically designed to enable users to interact and transact with one another without any intermediary's involvement.
NAFCU also offered comments in response to the Treasury Department's initial RFC on this topic offering support for a framework for regulating digital assets that accommodates responsible innovation within the credit union industry while also ensuring that standards exist to promote safety and soundness, mitigate financial stability risks, protect consumers and investors, and prevent financial crime.
NAFCU responded to a similar RFC from the Commerce Department, reiterating that the expected costs of digital assets, such as a central bank digital currency, would outweigh the benefits and that superior alternatives exist for accomplishing the same objectives. NAFCU first communicated these concerns to the Federal Reserve in a letter on the same topic.
The association will engage with the Treasury Department on this topic and continue to ensure credit union concerns are heard.
Related Resources
Add to Calendar 2023-11-30 09:00:00 2023-11-30 09:00:00 Safeguarding Credit Unions with Threat Intelligence Listen On: Key Takeaways: [1:01] What is threat intelligence, and why is it important to CUs? [2:14] What are threat intelligence feeds, and what role do they play in strengthening CUs? [4:41] Leveraging threat feeds and integrating intelligence into tools is crucial. [6:35] Learn what threat CUs should be most concerned about. [7:39] Phishing is ever-evolving, and user awareness is critical. [10:43] Learn how Defense Storm uses feeds to protect its customers. [13:28] Threat intelligence is not as complicated as some think; initiation can be easy through Slack, discussions, and a reporting culture. Web NAFCU digital@nafcu.org America/New_York public
preferred partner
DefenseStorm
Podcast
Consumer Lending
Blog Post
Add to Calendar 2023-11-28 09:00:00 2023-11-28 09:00:00 Growing Creatively & Innovatively in 2024 Listen On: Key Takeaways: [0:58] What can credit unions do to best prepare themselves for 2024? [2:12] Although he sees a glimmer of hope, Jack points out that the liquidity crisis and slow prepayment speeds hamper rapid recovery. [5:22] We discuss how credit unions seek low loan growth through member-centric strategies such as second mortgages and home improvement lending. [7:34] Credit unions are leveraging advancing technology for member-focused engagement. [9:31] How will technology continue to evolve and affect credit unions? [11:43] What role does AI play in innovative growth? [14:14] Credit unions adopt technology for efficiency, enabling staff to focus on personalized member interactions, especially with younger generations. [17:14] Closing thoughts, emphasizing competition against banks and fintech for younger generations. Web NAFCU digital@nafcu.org America/New_York public
Strategy & Growth, Consumer Lending
preferred partner
Allied Solutions
Podcast
---
Get daily updates.
Subscribe to NAFCU today.