November 25, 2019
NAFCU's 2019 Fed Report outlines challenges, recommends relief for CUs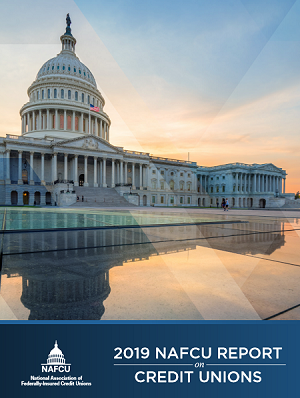 The 2019 NAFCU Report on Credit Unions is now available online, detailing the latest issues and trends affecting credit unions as the industry continues to grow and strengthen, despite regulatory burdens and challenges. Members of NAFCU's Board of Directors last week shared the results of the report during the association's annual meeting at the Federal Reserve.
"The credit union industry has seen an immense year of growth, despite ever-present regulatory and compliance challenges, with over 118 million Americans putting their trust in credit unions all over the country," said NAFCU President and CEO Dan Berger. "NAFCU is proud to serve as the industry's Washington Watchdog and looks forward to advocating on these issues in the coming year."
The latest edition of the report includes vital information on five key areas:
credit union financial conditions and their role in the economy;
credit union service to members;
trends in credit union membership;
NAFCU policy priorities; and
financial technology.
Some of the highlights in the 2019 report include the following:
credit unions are healthy and well-capitalized; however, compliance burdens have led to elevated merger rates among small credit unions;

it is vital that credit unions retain reliable access to the secondary mortgage market;

credit unions provide over $16 billion annually in benefits to the economy, and preserving the credit union tax exemption remains NAFCU's top legislative priority;

credit unions are accelerating investments in financial technology, but it is imperative that regulators provide greater legal clarity and a level playing field for highly-regulated institutions like credit unions (see NAFCU's fintech whitepaper for the association's regulatory recommendations);

a primary concern of credit unions and their members continues to be ensuring that our nation's retailers have data security standards to protect consumers' sensitive financial information; and

credit unions continue to labor under the immense cumulative regulatory burden in the post Dodd-Frank era as the number of employees devoted to regulatory compliance has more than doubled since 2010.
In addition, the report highlights priorities for a healthy regulatory environment that are necessary for credit unions to thrive, and for which NAFCU is advocating.
The information compiled in the 2019 NAFCU Report on Credit Unions is based on the association's Federal Reserve Meeting Survey, an annual assessment of NAFCU members covering topics discussed in the report. The report also draws on data collected for NAFCU's Economic & CU Monitor and CU Industry Trends Report.
Related Resources
Add to Calendar 2023-02-03 09:00:00 2023-02-03 09:00:00 Winning the Battle for Deposits Listen On: Key Takeaways: [01:28] An overview of the current macro environment. [02:55] Traditional tactics used by credit unions in the battle for deposits and why these are no longer enough. [07:39] Rife competition in the credit union space and how to stand out from the crowd.  [10:23] The benefits credit unions can experience by reducing the cognitive load of their members [18:17] Advantages and disadvantages of PFM tools in the battle for deposits.  [20:14] What credit unions should demand of their vendors. Web NAFCU digital@nafcu.org America/New_York public
preferred partner
Personetics
Podcast
Add to Calendar 2023-02-02 14:00:00 2023-02-02 14:00:00 How to Leverage Loan Participations in a Low Liquidity Environment About The Webinar As credit unions continue to face challenges with liquidity starting off 2023, strategic pricing and long-term alternative funding strategies can play a key role in allowing credit unions to serve more members and successfully manage the balance sheet. Loan participations can play a key role helping credit unions sustainably grow their originations, provide the marketplace access to quality, short duration investments, and successfully grow market share. Please join Amy Henderson, Chief Consumer Services Officer at Greenstate CU, Devin Hughes, VP of Business Development at LendKey, and Michael Adams, VP of Lender Development at Open Lending for a panel discussion to learn how credit unions can strategically serve more members, effectively price for loans, and successfully manage their balance sheet. Attendees will: Hear from Credit Union and FinTech experts Learn about loan pricing strategies and participation strategies Glean best practices from industry leaders who have been executing on these innovative strategies that better position the balance sheet for long term growth Find out how credit unions can start the process to identify trusted partners to help them execute on this strategy and serve more members Register for the Webinar Web NAFCU digital@nafcu.org America/New_York public
preferred partner
Open Lending
Webinar
Management, Relationships, Consumer Lending
preferred partner
Wolters Kluwer
Blog Post
---
Get daily updates.
Subscribe to NAFCU today.