February 14, 2020
NCUA set to propose rule on corporate CUs, finalized CECL interagency policy statement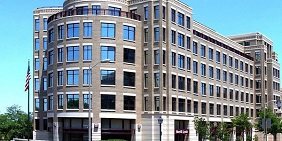 The NCUA Board is set to hold its second open board meeting of 2020 next week and on its agenda is a proposed rule related to corporate credit unions and a final interagency policy statement on the current expected credit loss (CECL) standard. The board will also receive a briefing on the National Credit Union Share Insurance Fund (NCUSIF) and credit union mortgage rates, a supervisory priority for this year.
Corporate Credit Unions
Members of NAFCU's Research team met with NCUA's Office of National Examination and Supervision last July to discuss issues related to corporate credit union rules. NAFCU supports corporate credit unions and the invaluable role they play as providers of liquidity and has urged the NCUA to make amendments to its current rules to allow more flexibility without impacting the safety and soundness of the corporate system.
CECL
The Financial Accounting Standards Board (FASB) in November made final a delay to its current expected credit loss (CECL) standard, pushing credit unions' compliance date to 2023. Following FASB's decision to move forward with the delay, federal financial regulators – including the NCUA – issued a proposed interagency policy statement for CECL and proposed guidance on credit risk review systems.
The proposed interagency policy statement describes regulatory expectations for an institution upon adoption of CECL and explains the responsibilities of management and the board of directors when determining allowances for credit losses (ACLs) under Generally Accepted Accounting Principles (GAAP). It would become effective at the time of each institution's adoption of CECL.
NAFCU for years has shared credit unions' concerns about the negative impacts of CECL to FASB, and the association has
continued to push for more guidance and relief
 for credit unions under the standard with the NCUA and FASB.
NCUSIF
During the December board meeting, agency staff indicated that the NCUSIF normal operating level (NOL) for 2020 would remain at 1.38 percent. NAFCU will continue to advocate for the NCUA to reset the NOL to the historical level of 1.3 percent so that credit unions may realize the fullest distribution.
NAFCU will monitor next week's meeting – which is slated to begin at 10 a.m. Eastern and will be livestreamed on the agency's website – and provide credit unions with insights afterward.
Mortgage Rates
Recently there have been discussions surrounding changes in lending contracts as the transition from the London Interbank Offered Rate (LIBOR) nears. Earlier this month, the Federal Housing Finance Agency (FHFA) released an update on the government-sponsored enterprises' (GSEs) development of an adjustable-rate mortgage (ARM) product that will be indexed to the Secured Overnight Financing Rate (SOFR).
NAFCU Chief Economist and Vice President of Research Curt Long wrote an article focused on what credit unions should know about the LIBOR transition, including the adoption of the SOFR, in a recent edition of The NAFCU Journal.
Related Resources
Add to Calendar 2020-03-31 14:00:00 2020-03-31 14:00:00 It's 2020: Don't Let Your Member Data Fall Into the Wrong Hands About the Webinar  What can fraud and cybercrime attacks from 2019 tell us about coming threats? How are criminals continuing to get their hands on your data? Attend this webinar to gain answers to these questions and to learn practical strategies for protecting data and preventing cybercrime in 2020. Key takeaways from this webinar include: Cybercrime, data breach, and fraud trends & predictions Actionable strategies to protect internal and third-party data Additional tips to prevent exposure to fraud and data theft Watch the Webinar On-Demand Web NAFCU digital@nafcu.org America/New_York public
preferred partner
Allied Solutions
Webinar
Fraud, Cybersecurity, Risk Management, Security, Web/Tech
Blog Post
Add to Calendar 2020-03-30 08:00:00 2020-03-30 08:00:00 Fighting Fraud with Data Listen On: Web NAFCU digital@nafcu.org America/New_York public
preferred partner
Q2
Podcast
Consumer Lending
Blog Post
---
Get daily updates.
Subscribe to NAFCU today.