September 12, 2019
Sens. Brown, Peters highlight importance of CUs at Caucus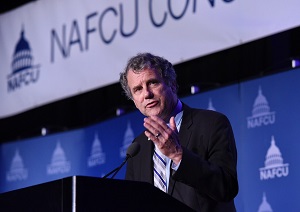 Ranking Members Sherrod Brown, D-Ohio, and Gary Peters, D-Mich., of the Senate Banking Committee and the Senate Homeland Security and Governmental Affairs Committee, respectively, described the important role credit unions play in their communities and nation as a whole as they discussed issues during the last day of NAFCU's Congressional Caucus.
Brown described credit unions as "people's conduit to the economy" and dove into housing finance reform, specifically the need to ensure affordability and eliminate discrimination. NAFCU is supportive of statutory duty-to-serve requirements for affordable housing.
He expressed concerns that the plans released last week by the Treasury Department and the Department of Housing and Urban Development would make mortgages more expensive and harder to get. He shared NAFCU's belief that credit unions must maintain access to the secondary mortgage market at the same level as larger lenders.
"Credit unions understand your communities," Brown said. "If we cede the entire market to Wall Street, they'll be focused on making the biggest profits. It wasn't credit unions that preyed on families so Wall Street could make a quick buck in the lead up to the housing crisis."
The Senate Banking Committee Tuesday held a hearing to review the housing finance reform plans, and NAFCU Executive Vice President of Government Affairs and General Counsel Carrie Hunt testified earlier this year on credit unions' needs in any reform plan.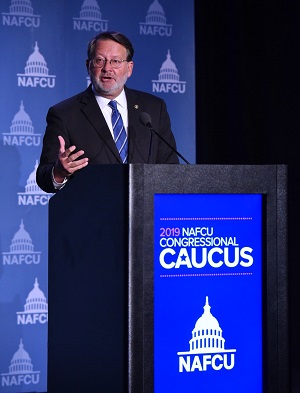 Peters also touched on housing issues and the need to ensure credit unions' access to the secondary market during his address to Caucus attendees. He added that housing finance reform needs to bring in more private capital, maintain the government backstop for catastrophic losses, and preserve the availability of the 30-year, fixed-rate mortgage to support the country's middle-class.
Peters described cybersecurity as the biggest threat facing the country as sophisticated state actors and criminals pose attacks across the economy on a daily basis. He said merchants and retailers need to be held accountable for data breaches that occur on their end, adding that consumers need to understand that credit unions are there to protect them and their financial data.
In addition, Peters said he will fight to protect the credit unions' tax exempt status, raise the industry's member business lending cap, and reform regulations to add flexibility for smaller financial institutions.
"Credit unions are the heart and soul of financial institutions in local communities," Peters said. "You aspire to have the middle class build financial security that all Americans should be able to achieve." He also touted credit unions as the "solution" to the Great Recession as the industry stepped up its lending when other institutions pulled back.
Dozens of lawmakers, administration officials and regulators attended this year's NAFCU Congressional Caucus, which also had credit union leaders hold a record number of meetings on Capitol Hill. Find coverage in NAFCU Today and on Twitter with #NAFCUCaucus. Registration for next year's Caucus – happening Sept. 13-16, 2020 – is now open.
Related Resources
---
Get daily updates.
Subscribe to NAFCU today.