June 26, 2023
This week: NAFCU elevates CUs, priorities in DC, CA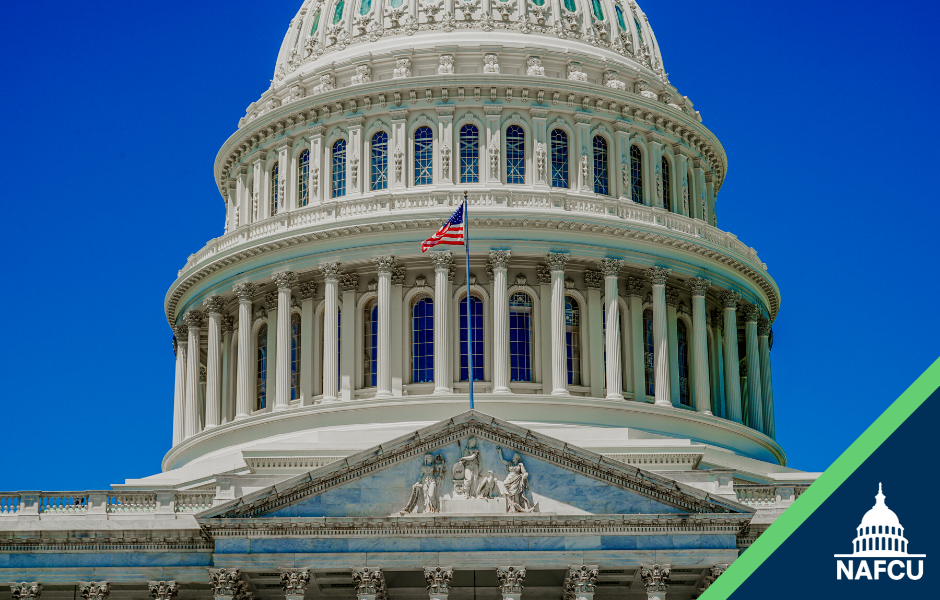 While Congress is in a two-week recess, NAFCU continues its advocacy on key credit union priorities related to interchange, the National Defense Authorization Act (NDAA), government funding, and more. In addition, the association is hosting its Engage 2023: NAFCU's Annual Conference in Long Beach, Calif., with hundreds of credit union leaders and industry professionals set to attend.
Last week, the House Appropriations Subcommittee on Financial Services and General Government (FSGG) advanced to the full committee its funding bill that would require NAFCU-sought reforms at the CFPB, but would also reduce funding for programs used by credit unions, including the Community Development Financial Institution (CDFI) Fund and Community Development Revolving Loan Fund (CDRLF).
NAFCU Vice President of Government Affairs Brad Thaler sent a letter to the House Appropriations Committee Friday offering support for several provisions of the bill, including:
reforming the bureau's single-director structure to a bipartisan commission and subjecting the bureau to the congressional appropriations process to increase oversight;
prohibiting the CFPB from expending funds to implement the section 1071 final rule, related to small business lending data collection, noting that the rule's "costs would result in fewer lenders supporting our nation's small businesses, which would in turn result in less availability of credit for small businesses"; and
prohibiting the creation of a central bank digital currency, which NAFCU has consistently opposed.
Thaler urged the committee to fund the CDFI Fund and CDRLF at levels proposed by President Joe Biden, and also shared NAFCU's concerns about the CDFI Fund's changes to its Certification Application and process and called for more transparency and communication from the fund.
Also Friday, the House passed the Middle Class Borrower Protection Act of 2023 (H.R. 3564), which would cancel the Federal Housing Finance Agency's (FHFA) recent changes to the GSEs' single-family pricing framework. NAFCU raised concerns that the framework would result in higher guarantee fees and harm consumers and credit unions that sell loans to Fannie Mae and Freddie Mac. The bill now heads to the Senate.
NAFCU continues to monitor legislative efforts related to interchange and the NDAA. The House and Senate Armed Services Committees last week advanced their versions of the NDAA to the full chambers; NAFCU is advocating for clean bills that do not include provisions to allow banks to operate rent-free on military bases or expand interchange price controls to credit cards.
Credit unions are encouraged to take action via NAFCU's Grassroots Action Center – featuring direct outreach to lawmakers on key issues, bill trackers, lawmakers' contact information, and more.
Engage 202: NAFCU's Annual Conference – sponsored by Mastercard – begins tomorrow with NAFCU's Annual Member Business Meeting, and will officially kick-off Wednesday with an opening welcome from NAFCU President and CEO Dan Berger followed by several keynotes and sessions through the remainder of the week focused on growth, technology, payments, member engagement, and more.
Stay tuned to NAFCU Today for conference coverage and follow along on social media using #NAFCUNation.
Also happening this week:
Wednesday, the CFPB hosts a webcast on its small business lending data collection rule;
NAFCU's Small Business Lending Working Group meets Wednesday; and
Friday, the current application round for NCUA CDRLF grants closes. The agency plans to administer $3.5 million to the most-qualified applicants during this round, and is also piloting two new grant initiatives. The agency reminds credit unions to review eligibility requirements before applying.
Related Resources
---
Get daily updates.
Subscribe to NAFCU today.