April 23, 2018
This week: NAFCU, FinCEN talk CUs' reg burden; Congress reviews cyber risks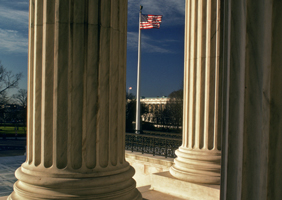 NAFCU will meet today with Financial Crimes Enforcement Network (FinCEN) Director Kenneth Blanco to discuss the agency's ongoing priorities and credit unions' regulatory burden associated with suspicious activity report (SAR) filings, among other concerns.
This is NAFCU's first meeting with Blanco, who was named to the post in November. In September, NAFCU President and CEO Dan Berger met with then FinCEN Acting Director Jamal El-Hindi, now the agency's deputy director. NAFCU has previously raised concerns about the regulatory burden presented by FinCEN's rules on collecting SARs, and has also addressed with FinCEN the currency transaction reporting process.
NAFCU has also voiced its concerns regarding the FinCEN's final due diligence rules, effective May 11, because of the costs and burden they would impose on credit unions. The rules would amend the agency's existing rules, including a requirement for those opening bank or credit union accounts for a "legal entity" to provide information on the beneficial owners of the account.
Berger, NAFCU Vice President of Regulatory Compliance Brandy Bruyere, NAFCU Director of Regulatory Affairs Alexander Monterrubio and NAFCU Regulatory Affairs Counsel Ann Kossachev will attend today's meeting.
NAFCU will also monitor various congressional committees this week as they discuss cybersecurity risks. The Senate Homeland Security and Governmental Affairs Committee on Tuesday will discuss how to mitigate America's cybersecurity risk. Witnesses include representatives from the U.S. Department of Homeland Security, the Government Accountability Office and Harvard University. The Senate Small Business and Entrepreneurship Committee on Wednesday will look into preparing small businesses for cybersecurity success.
In other hearings this week:
The Senate Finance Committee on Tuesday will hear early impressions of the new tax law.
The House Ways and Means Committee on Wednesday will hear various perspectives from employees on the jobs gap.
A House Financial Services Subcommittee on Wednesday will look into the role the Department of Housing and Urban Development plays in rental assistance.
The House Armed Services Committee is holding a mark-up Thursday on the National Defense Authorization Act for fiscal year 2019.
Throughout this week, the House Appropriations Committee will review different budgets from various government departments.
Other events to note this week:
NAFCU Director of Regulatory Affairs Counsel Alexander Monterrubio and Regulatory Affairs Counsel Andrew Morris will attend a Financial Services Sector Coordinating Council (FSSCC) meeting this week. The meeting will be jointly hosted with the Financial and Banking Information Infrastructure Committee (FBIIC). NAFCU is a founding member of the FSSCC and has worked with both groups on cybersecurity issues.
On Wednesday, NAFCU Regulatory Affairs Counsel Ann Kossachev will attend the Women and Housing and Finance 2018 Annual Symposium, which will focus on the impact of the global and rapidly growing applications of fintech on financial services providers and their customers.
Also on Wednesday, NAFCU will host a webinar on SBA products available to credit unions. The webinar is free, but registration is required.
On Thursday, NAFCU's Regulatory Affairs Team will update member credit unions on the regulatory landscape. The webinar is free and only open to NAFCU-member credit unions; registration is required.
Related Resources
---
Get daily updates.
Subscribe to NAFCU today.