May 14, 2018
This week: Reg relief vote on horizon, NAFCU steps up advocacy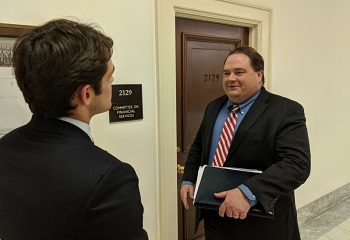 Both the House and Senate are in session this week, and House leadership announced last week that a vote is possible on the NAFCU-backed Economic, Growth, Regulatory Relief and Consumer Protection Act (S. 2155) before Memorial Day. Ahead of a House vote on the issue, NAFCU lobbyists are continuing to hold bipartisan meetings on Capitol Hill throughout the week, and the association encourages credit unions to keep contacting members of Congress and urge their support of S. 2155.
NAFCU has long fought to reduce burdensome regulations placed on credit unions; the association was the only trade group to oppose subjecting credit unions to CFPB authority under the Dodd-Frank Act. More recently, NAFCU has been vocal on its support for S. 2155 since it was introduced by Senate Banking Committee Chairman Mike Crapo, R-Idaho, and several Democratic members of the committee in November.
NAFCU and credit union advocacy efforts led to announcements last week by House Speaker Paul Ryan, R-Wis., and House Financial Services Committee Chairman Jeb Hensarling, R-Texas, that other regulatory relief measures may get considered in addition to S. 2155.
Additionally last week, NAFCU President and CEO Dan Berger outlined to lawmakers a number of top legislative items still pending before Congress, including S. 2155 and legislation to delay NCUA's risk-based capital rule (H.R. 5288), and asked leaders in the House and Senate to work with the association to address these issues and bring the credit union industry much-needed regulatory relief. Berger and NAFCU Director of Political Affairs Chad Adams also sent emails to member credit unions to update them on S. 2155 and outline NAFCU's strategy for even more regulatory relief.
Also happening in Washington this week:
Today, Berger and other senior NAFCU staff will meet with Federal Communications Commission (FCC) Chairman Ajit Pai (read more here).

Tomorrow, NAFCU Director of Regulatory Affairs Alexander Monterrubio and Regulatory Affairs Counsel Kaley Schafer will attend the Federal Trade Commission's Military Consumer Partner meeting.

Tomorrow, the Senate Banking Committee will consider the nominations of Columbia University economist Richard Clarida and Kansas State Bank Commissioner Michelle Bowman to serve on the Federal Reserve Board.
Tomorrow, a Senate Commerce subcommittee will hold a hearing on trends in mobile technologies.
Tomorrow, the Senate Small Business Committee will receive an update from the Small Business Administration.
Wednesday, a House Financial Services subcommittee will hold a hearing on implementing the Financial Crimes Enforcement Network's (FinCEN) customer due diligence rule, which went into effect Friday.
Wednesday, a House Education subcommittee will hold a hearing on ways to modernize retirement plan administration.
Wednesday, the House Ways and Means Committee is holding a hearing on the implementation of tax reform.
Wednesday, the NCUA is holding a webinar to explain the benefits of Community Development Financial Institution (CDFI) certification.
Thursday, a House Ways and Means subcommittee holds a hearing on the future of Social Security Numbers as personal identifiers.
NAFCU also has four webinars happening this week on credit union board ethics, combating fraud, building a cyber defense program and customer identification programs.
Related Resources
---
Get daily updates.
Subscribe to NAFCU today.