NAFCU Services is proud to announce the 2017 Innovation Award Finalists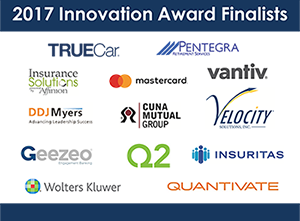 An Innovation Award is the highest distinction offered to a NAFCU Services Preferred Partner.
The awards honor the companies that demonstrate extraordinary creativity and commitment to solve challenges specific to credit unions. The award winners will be announced at the NAFCU 50th Annual Conference and Solutions Expo in June in Honolulu, Hawaii.
2017 Finalists
Affinion Group for the LUX 360°℠ Analytics Package
The LUX 360°analytics package is a comprehensive analytics package that provides demographic, financial, behavioral, and geographic data insights to the credit union of their complete membership base. The LUX 360°analytics package allows credit unions to review all of the data elements in a concise, aggregated and visual analytics package that quickly showcases trends or insights to them.
CUNA Mutual Group for TruStage Life Insurance
TruStage is one of the industry's first to market with a term life insurance product that consumers can purchase completely online, with rates starting at just $3.65/month. Consumers can purchase face amounts between $5,000 and $100,000 to provide protection for home mortgages, children's education, income replacement or final expenses – all things that matter most to our target consumer.
DDJ Myers for the Transformative Change Model (TCM)
DDJ Myers developed the Transformative Change Model (TCM) to facilitate change with boards and board members to strategically add the value required for a high-performing board. The changing board phenomena in credit unions necessitated a new mindset that modeled the change credit union boards wanted: the use of a consultative transformative change model to guide boards in co-creating their own board of the future rather than following a bland cookie-cutter governance model that may not work for the progressive organizations of today and tomorrow.
Geezeo for Responsive Tiles
Geezeo introduced Responsive Tiles with a vision of enabling credit unions to provide the right financial tool at the right time to their members, while gathering and leveraging actionable financial data to build stronger, deeper member relationships. The Responsive Tiles are the building blocks for seamless, custom digital financial management solutions. Consumers want FinTech solutions that support daily and long-term financial needs and this motivates credit unions to find ways to deliver the right tool at the right time.
Insuritas for +Plus Down Payment Protection
Introduced in 2017, +Plus allows credit unions to offer a unique challenge to this generation of members, providing a level of security and peace of mind around one of the most important investments in their lifetime. +Plus is an insurance product that protects the home buyer's down payment. Just like the PMI insurance policy many homeowners are required to buy to protect the credit union if the value of the home is lower than the outstanding loan amount, +Plus is a brand new insurance policy that protects the down payment of the home buyer. For a period of 7 years, if the homeowner needs to sell for any reason and the market is against them, +Plus down payment protection will reimburse them up to their full down payment. 
Mastercard for the Mobile Product Showcase
Mastercard Mobile Product Showcase is essentially a tractor trailer (18-wheeler) which contains modular exhibits of current Mastercard technological innovations. The exhibits are B2B in nature, designed to stimulate thinking of credit union executives as to how their institution might leverage emerging technology to improve member engagement, satisfaction and security while potentially reducing credit union expense. Most importantly, it gives executives pause to think about how they may curb the pending disintermediation between the credit union and the member that technology can enable through similar solutions where the credit union is not engaged.
Pentegra Retirement Services for The Pentegra Fiduciary Outsourcing Advantage
As the regulatory landscape continues to evolve, Pentegra's latest iteration of the Pentegra Fiduciary Outsourcing Advantage offers a way for credit unions to shift the burden of plan administration and compliance from their organization to Pentegra. Through these services, credit unions can truly outsource the fiduciary responsibility and administrative burdens that come with managing a retirement plan.
Q2 for Q2 SMART
Q2 SMART is a behavior-driven recommendation engine to uncover and target real needs. Real growth in an age of digital growth means better understanding and engagement with members to deliver the right products to them at the right time. Q2 SMART will help FI marketers target banner ads based on user behavior, and easily manage multiple customized promotional campaigns in online banking. This back office tool provides efficiencies to credit union staff and flexibility for marketers.
Quantivate for Dynamic Workflow Engine
Quantivate's Dynamic Workflow Engine and Self Service Portal allows credit unions to configure workflows, pages, and questionnaires to gather information from external third parties. And use temporary user accounts to create powerful self-service portals so your vendors, suppliers, and other third parties can manage their own information and documentation. The Quantivate workflow engine and its recent updates allow credit unions to greatly increase efficiency. In day-to-day activities such as Vendor Due Diligence many takes are complicated and take multiple users and time consumed in contacting vendors or other users to complete tasks. Now significant time can be saved with the development of self-guided vendor questionnaires, portals, and workflows.
TrueCar for Integrated Car Buying Service
Partnership with TrueCar provides a unique opportunity to help members navigate a complex and often challenging process of buying a vehicle. By providing price transparency on both new and used vehicles, along with reduced/subvened loan rates, credit unions can: 1) Increase car loan application volumes, 2) Increase car loan application funding rates, 3) Enhance digital engagement, and 4) Obtain an incremental source of revenue.
Velocity Solutions for CashPlease
CashPlease is a Small-Dollar, Short-Term Loan Program that allows credit unions to provide their members with easy access to cash at affordable interest rates, while staying compliant and being much more efficient than other manual solutions.From a member perspective, it addresses the need for access to short-term liquidity and prevents them from having to access cash from undesirable, high-cost sources such as payday loans. There are very few products in the market available to credit unions that allow them to seamlessly, responsibly and profitably offer loans to their members.This solution is also innovative because it responds to a changing regulatory environment and changing credit union and consumer needs. 
Vantiv
for
OmniShield
Card fraud is the United States is a $7.5 billion a year problem and is forecasted to reach $9 billion by 2020. Card fraud commonly represents the largest source of financial loss for credit unions. Launched in 2014 and extended in 2016, Vantiv's OmniShield solution manages and mitigates card fraud. Through a combination of People, Process, and Technology, OmniShield leads the industry. While the average US Debit card portfolio averages 12.53 basis points in gross fraud losses, Credit Unions protected by OmniShield average 7.34 basis points, a 41% reduction.
The increase in card fraud has resulted in an increase in the number of disputed transactions. Unfortunately, the card brands have not made the chargeback process easy. When processing a member dispute, credit unions need to ascertain the correct reason why the chargeback is being initiated. To simplify life for credit unions, Vantiv introduced a new, automated dispute management system called Vantiv Resolve. Launched in 2016, it takes the complexity out of the process.
Wolters Kluwer Financial Services for E-Sign
Wolters Kluwer E-Sign helps credit unions better serve their members by delivering a flexible, secure and compliant document exchange and e-signature solution.The new mobile first user interface offers greater compatibility across devices and improves easy-of-use for credit unions and their members. With a focus on compliance, Wolters Kluwer E-Sign gives credit unions an e-signature solution they can deploy with confidence. Additionally, the platform's SaaS-based architecture allows credit unions to quickly configure and deploy the e- signature platform to their members.