March 26, 2021
5 things to know this week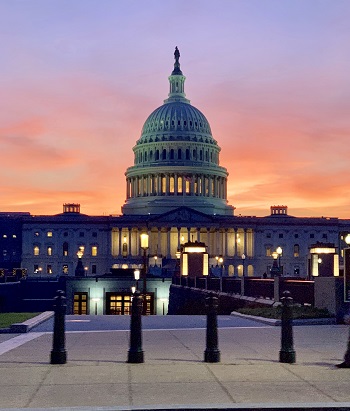 The Senate passed legislation to extend the paycheck protection program (PPP) by two months. Registration is open for an upcoming NCUA webinar focused on the Bank Secrecy Act (BSA). These are just a couple key developments from this week. See a roundup of key industry updates credit union leaders should be aware of.
PPP extended, but will there be funds?
The Senate Thursday passed legislation to extend the PPP after NAFCU and others raised concerns about the amount of loans backlogged due to hold codes and called on the Small Business Administration (SBA) to clear the codes before the program ends. Once signed by President Joe Biden, the bill will delay the PPP's loan application deadline to May 31 – from its previous March 31 deadline – and allow the SBA to continue processing pending applications for 30 days after that date.
While the extension gives some reassurance that loan applications will be processed before the program expires, an SBA official told the Senate Small Business Committee during a hearing Wednesday that there is $79 billion of funds remaining that will likely last only until the end of April. The PPP extension bill provides no additional allocation to the program.
According to the SBA's latest data, more than 3 million loans have been approved in 2021, totaling $195.8 billion. The average size of 2021 PPP loans is $63,000, though credit unions with less than $10 billion in assets are averaging loans of $40,000 – reinforcing that credit unions are supporting the smallest businesses across the nation. These credit unions have originated 95,479 PPP loans this year totaling more than $3.88 billion.
NAFCU continues to advocate to Congress ways in which it could provide additional tools to credit unions to better support members amid the pandemic. The association is currently fighting for lawmakers to pass legislation that would exclude credit union member business loans made in response to COVID-19 relief from credit unions' member business lending (MBL) cap.
NCUA hosting BSA webinar April 14
For credit unions looking to get valuable insights into BSA and anti-money laundering (AML) compliance, the NCUA is offering a webinar April 14. BSA Compliance Officer Cathryn Martin from NAFCU-member Tower Federal Credit Union (Laurel, Md.) is set to join the agency's Office of Examination and Insurance for a review of:
recently issued BSA statements;
actions for managing high-risk accounts; and
changes made by the Anti-Money Laundering Act of 2020.
The webinar is set to begin at 2 p.m. Eastern April 14. Registration is available here, and questions can be submitted in advance via email.
Treasury Secretary Janet Yellen discussed the BSA/AML changes made by the AML Act and the department's implementation efforts during a hearing with the House Financial Services Committee this week. NAFCU has a summary chart of key provisions of the act available for credit unions.
EIDL max limits increasing in April
The SBA announced that, starting April 6, small businesses and non-profit organizations will be able to borrow a max of $150,000 for its COVID-19 six-month Economic Injury Disaster Loans (EIDLs), and $500,000 for its 24-month loans. For loans approved before the new limit takes effect, the SBA will reach out to eligible borrowers with information on requesting an increase.
Earlier this month, the SBA granted an automatic additional 12-month deferment of principal and interest payments for disaster loans approved before 2020 and in regular servicing status as of March 1, 2020. The SBA has also extended the EIDL application through Dec. 31.
Fed govs give updates on LIBOR transition, small biz, econ outlook
Several of the Federal Reserve Board governors gave speeches this week focused on economic issues and outlook. Here's a summary of what they shared:
ICYMI: Now's the time for action on fintech
As more fintech companies take advantage of different strategies to sidestep financial regulation and enter the financial system as banks, NAFCU believes that now is the time for federal regulators and Congress to address the issue and ensure these fintech banks are operating on a level playing field with credit unions.
NAFCU President and CEO Dan Berger, Executive Vice President of Government Affairs and General Counsel Carrie Hunt, and Vice President of Legislative Affairs Brad Thaler raised the industry's concerns about lack of fintech oversight and risks to the financial system and consumers in letters to the CFPB, Office of the Comptroller of the Currency, and lawmakers Wednesday. Read more about the association's efforts to achieve competitive equality in the financial services marketplace.
Related Resources
---
Get daily updates.
Subscribe to NAFCU today.