May 14, 2021
5 things to know this week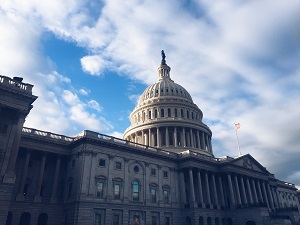 After the ransomware attack on Colonial Pipeline, there's renewed focus in Washington to strengthen cybersecurity and supply chain risk management. COVID cases are declining across the country. Inflation is being closely scrutinized after large jumps in consumer prices. Get more details into these issues and others credit union leaders should be aware of this week.
Biden signs EO on cybersecurity
President Joe Biden Wednesday signed an Executive Order instructing the federal government to increase its cybersecurity efforts to ward off "sophisticated malicious cyber campaigns that threaten the public sector, the private sector, and ultimately the American people's security and privacy." These instructions come in the wake of the ransomware attack on Colonial Pipeline that disrupted its fuel distribution on the East Coast this past week, leading to shortages and price increases.
The order covers a wide range of topics, including federal contracting, information sharing, and incident response coordination, primarily directed at government law enforcement agencies such as the Cybersecurity and Infrastructure Security Agency (CISA), FBI, and Department of Homeland Security. It also directs federal agencies, including independent regulatory agencies that would cover the NCUA, to develop more secure, cloud-based systems for managing IT security.
The National Institute of Standards and Technology (NIST) is also given the authority to develop new guidance related to supply chain cyber attacks within 90 days. Supply chain risk management is not a new area of consideration for NIST, and the NCUA has also spoken about how this aspect of cybersecurity will be the focus of a forthcoming tabletop exercise for credit unions.
Relatedly, the NCUA is set to host a webinar May 26 with CISA focused on cybersecurity efforts.
Bright spots in COVID recovery
A majority of states – 37 – saw declines in new COVID cases last week, and no state saw an increase. The nation's average of confirmed infections is about 38,000 per day, and 600 COVID deaths per day – the lowest level in 10 months. The key contributing factor: Vaccines. Axios reports that 107 million Americans have now received both doses of the Pfizer or Moderna vaccines, and about 60 percent of adults have received at least one dose. In addition, the Centers for Disease Control and Prevention (CDC) this week recommended that Pfizer's vaccine be administered to kids aged 12-15; the vaccine was previously authorized for people 16 and older.
The CDC also released updated guidance Thursday saying that fully vaccinated individuals can return to "normal" life without needing to wear masks or socially distance themselves, except in situations where masks are required by laws and regulations, such as public transportation.
Credit unions can access NAFCU's resources related to the coronavirus, which continue to be updated as new guidance and policy changes are made, online.
Is inflation something to worry about…?
That's the question on everyone's mind after the consumer price index saw its fastest pace of annual gains since 2008 and largest monthly jump in more than a decade. While investors, businesses, and consumers show signs of concern, the Fed continues to believe that these price increases are temporary.
During its April meeting, the Federal Open Market Committee (FOMC) maintained the federal funds target rate at its current range of 0 to 0.25 percent and gave no indication that tighter policy is coming anytime soon. Fed Vice Chair Richard Clarida this week reinforced that notion:
"Readings on inflation on a year-over-year basis have recently increased and are likely to rise somewhat further before moderating later this year," Clarida said. "Over the next few months, 12-month measures of inflation are expected to move above our 2 percent longer-run goal, largely reflecting, I believe, transitory factors such as a run of year-over-year comparisons with depressed service-sector prices recorded last spring as well as the emergence of some supply bottlenecks that may limit how quickly production can rebound in certain sectors.
"However, under my baseline outlook, these one-time increases in prices are likely to have only transitory effects on underlying inflation, and I expect inflation to return to – or perhaps run somewhat above – our 2 percent longer-run goal in 2022 and 2023. This outcome would be entirely consistent with the new framework the Federal Reserve unanimously adopted in August 2020 and began to implement at our September 2020 [FOMC] meeting."
Managing climate risks
The House Financial Services Committee this week marked up and advanced legislation that would require public companies to assess and report climate risks. The Securities and Exchange Commission would be charged with issuing rules for public companies to disclose greenhouse gas emissions, fossil-fuel related assets, how the company could be impacted by the current course of climate change, and risk management strategies.
Climate change's impact on business has been a popular topic of discussion in Washington recently, with President Joe Biden working on an executive order to combat climate-related financial risks that could create new regulations on businesses, including the banking industry. Several congressional committees have also held hearings on the topic, and Treasury Secretary Janet Yellen recently gave an update on the administration's efforts to address financial risks posed by climate change.
Relatedly, Reuters reported this week that the Federal Reserve "has asked lenders to start providing information on the measures they are taking to mitigate climate change-related risks to their balance sheets."
In addition, NAFCU provided feedback to the Federal Housing Finance Agency on the risks climate change and natural disasters pose to the housing finance system and advocated for coordinated efforts among Financial Stability Oversight Council and other federal agencies. During a March event, NCUA Chairman Todd Harper shared his perspective on the issue. NAFCU's next Economic & CU Monitor is set to share insights into how credit unions are assessing and preparing for climate-related risks.
Deadline extended: NAFCU's Annual Awards
NAFCU-member credit unions have another week to submit nominations for NAFCU's 2021 Annual Awards Competition. The Annual Awards recognize association member credit unions, professionals, and volunteers for their dedication and achievement within their institutions, communities, and the industry.
As an exclusive member benefit, participation is free and only open to NAFCU members. Winners will be selected by the NAFCU Awards Committee and honored during NAFCU's Congressional Caucus Sept. 12-15 in Washington, D.C.
This year's competition will honor the Credit Union of the Year, CEO of the Year, Professional of the Year and Volunteer of the Year in each of two asset-size categories: $250 million or less, and more than $250 million. Each award competition application must include information on the nominee's 2020 accomplishments.
To learn more and enter the competition, visit here. Nominations are now due May 21.
Related Resources
---
Get daily updates.
Subscribe to NAFCU today.