April 29, 2020
Berger, Calabria talk forbearances, GSE fees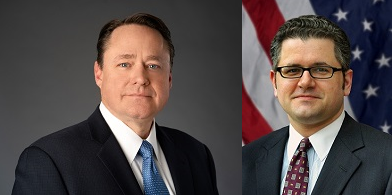 NAFCU President and CEO Dan Berger spoke with Federal Housing Finance Agency (FHFA) Director Dr. Mark Calabria Tuesday about the agency's efforts to support mortgage borrowers impacted by the coronavirus and to provide relief to credit unions and other mortgage servicers.
NAFCU Director of Regulatory Affairs Ann Kossachev and Calabria's Chief of Staff John Roscoe also joined the discussion.
Under the CARES Act, borrowers experiencing financial hardship during the coronavirus crisis may request forbearance on single-family and multifamily loans sold to the GSEs, and in response mortgage servicers must provide a forbearance that allows borrowers to defer their mortgage payments up to 180 days with an option for an additional 180-day extension. However, the CARES act does not provide relief for mortgage servicers, such as credit unions.
Berger and Calabria discussed the rate of forbearance requests and the impact on credit unions. The FHFA last week heeded NAFCU's call to provide mortgage servicers with relief as it announced it will provide a four-month limit on advances of principal and interest payments for loans in forbearance sold to the government-sponsored enterprises (GSEs).
The FHFA's announcement also instructs the GSEs to maintain loans with coronavirus forbearance plans in their mortgage-backed security (MBS) pools, which could further assuage servicers' liquidity concerns and reduce the impact on prepayment speeds on MBS.
In addition, the FHFA is allowing the GSEs to purchase single-family mortgages in forbearance that meet specific eligibility criteria in an effort to provide liquidity to mortgage markets and allow originators to continue lending. NAFCU acknowledged this as a positive step, but cautioned against high fees.
During Tuesday's discussion, NAFCU reiterated concerns that the loan-level pricing adjustment (LLPA) fee may be cost prohibitive for some credit unions to continue selling to the GSEs as they currently do.
Berger and Calabria also discussed guarantee fees and the GSEs' efforts to end volume-pricing discounts. The FHFA previously directed the GSEs to stop this practice, and following an FHFA report on guarantee fees, NAFCU suggested that further action is needed to ensure fair pricing.
NAFCU will continue working with the FHFA to support liquidity in the mortgage market and work with the agency to ensure credit unions' concerns are addressed.
Related Resources
Consumer Lending Home-Secured Lending
Blog Post
Home-Secured Lending Examination & Enforcement Operations
Blog Post
Home-Secured Lending
Blog Post
Home-Secured Lending
Blog Post
---
Get daily updates.
Subscribe to NAFCU today.