November 22, 2019
CECL, RBC on NCUA's fall rulemaking agenda; HMDA, debt collection on CFPB's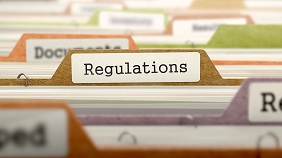 Administrative agencies – including the NCUA and CFPB – Thursday released their fall regulatory agendas. A number of issues on the agendas are hot-topics, such as the current expected credit loss (CECL) standard, and rulemakings already underway; see what can be expected in the coming months.
Of note, the NCUA and other federal banking agencies plan to issue – tentatively in January – an updated version of their 2016 proposal to implement a section of the Dodd-Frank Act that requires the regulators to issue regulations or guidelines prohibiting incentive-based compensation arrangements that the regulators determine encourage inappropriate risks and requires institutions to disclose information about the structure of their incentive-based compensation plans to the appropriate regulator.
NAFCU opposed the original proposed rule because it would impose complex oversight responsibilities. The association also argued that credit unions should not be covered because the industry did not engage in the bad practices which became the targets of additional regulatory scrutiny.
CECL: The agency is planning to issue a proposed rule in January that is expected to adopt a phase-in of CECL's negative impact on credit union net worth ratios. NAFCU has urged the Financial Accounting Standards Board to coordinate with the NCUA to provide credit unions with more guidance and relief under the standard.
Risk-based capital (RBC): As the fall agenda indicates that a final RBC rule was scheduled for November 2019, this is likely high on the agency's priority list. Without action, the RBC rule will become final Jan. 1, 2020. NAFCU is supportive of delaying the rule and making additional revisions as needed.
Rate ceiling for federal credit union loans: The agenda indicates an advance notice of proposed rulemaking to gather feedback on the issue is slated for this summer. The NCUA in August 2018 voted to maintain the interest rate ceiling at a fixed 18 percent; NAFCU encouraged the board to move forward with a variable interest rate because of the growth opportunities it would provide credit unions.
Subordinated debt/regulatory capital: The agency issued an advance notice of proposed rulemaking in 2017, which sought feedback on both supplemental and secondary capital. The fall agenda indicates a formal proposal on subordinated is expected in December.
Credit Union Service Organizations (CUSOs): A proposed rule to expand the permissible lending activities for CUSOs is expected soon.
Unfair, deceptive, or abusive acts or practices (UDAAP): While not officially on the fall rulemaking agenda, CFPB Director Kathy Kraninger announced Thursday that the bureau will soon provide NAFCU-sought clarity on the "abusive" prong.
Small business data collection: The bureau's implementation of Section 1071 of the Dodd-Frank Act remains in the pre-rule stage. It recently outlined its timeline for the rule as it sought a summary judgment in a lawsuit.
Debt collection: The bureau in May issued a proposed rulemaking related to third-party debt collection. It is now considering a supplementary rulemaking related to time-barred debt disclosures and will determine whether to publish the supplemental proposal early next year.
Payday lending: The bureau in June finalized a delay of its payday lending rule, but is still considering its proposal to remove mandatory underwriting requirements, including ability-to-repay provisions. NAFCU offered its support for both proposals and reiterated its request that the rule's safe harbor for NCUA's PALs be expanded. A final rule on the underwriting requirements is expected in April 2020.
Remittances: A proposed rule is expected in December to address concerns that a statutory exemption for estimating remittance fees will soon expire. In comments and meetings with the bureau, NAFCU flagged that many credit unions have stopped offering these services as a result of the high compliance burden and costs.
Home Mortgage Disclosure Act (HMDA): After two proposals were issued this year related to thresholds and reporting of certain data points, the bureau plans to issue a final rule modifying HMDA's permanent institutional and transactional coverage thresholds in the spring, and an official proposal related to data points. Also in the summer, the bureau plans to issue a proposal regarding public disclosure of HMDA data.
In addition, the Department of Labor plans to propose a rule in December to define a "fiduciary," the Small Business Administration is set to finalize its rule related to express loans, and the Department of Defense plans to issue a proposed rule to amend the Military Lending Act in January 2020.
Access all of the regulatory agendas here.
Related Resources
---
Get daily updates.
Subscribe to NAFCU today.