July 09, 2019
Mulvaney, Calabria, others added to Caucus lineup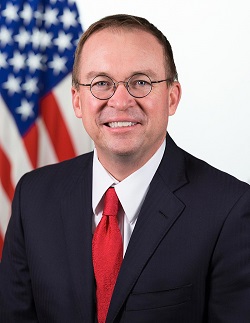 When hundreds of credit union representatives gather in Washington Sept. 8-11 for NAFCU's Congressional Caucus, they'll have the opportunity to hear from top administration officials who are shaping policies that affect the industry, including President Donald Trump's Acting Chief of Staff and Director of the Office of Management and Budget Mick Mulvaney and Federal Housing Finance Agency Director Mark Calabria.
Brian Peretti, director of the Treasury Department's Office of Critical Infrastructure Protection and Compliance Policy, and Bill Evanina, director of the National Counterintelligence and Security Center within the Office of the Director of National Intelligence, will also speak at Caucus.
These officials join renowned journalists Gretchen Carlson and Major Garrett, who are the opening and closing event keynotes. Interested in attending Caucus? Register by Friday an save $200 with code CAUCUSAVINGS.
NAFCU has met many times with Mulvaney; most recently, the association's board of directors met with him in November while he served as acting director of the CFPB. While at the CFPB, Mulvaney worked to reduce regulatory burdens – something which he also prioritized while serving in Congress – and to use more data to inform the bureau's efforts.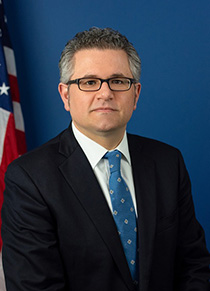 The association also has a strong relationship with Calabria. Calabria plays a critical role in housing finance reform, and a number of NAFCU's housing finance reform principles were included in the FHFA's most recent annual Report to Congress. During a meeting last month, Calabria reiterated the need to ensure fair pricing and equal access to lenders of all size.
From Peretti, credit unions will get an inside look at cybersecurity efforts. In his current role, he supervises the planning, evaluation and implementation of information security, information assurance, and risk management policies related to critical infrastructure protection, cyber security and homeland security. Peretti also chairs the Cyber Security Committee for the President's Working Group for Financial Markets, and previously served as general counsel for Congressional Federal Credit Union.
Evanina will also share cybersecurity-related insights at Caucus as he is head of counterintelligence for the federal government. In addition to leading security and counterintelligence efforts to protect the government and private sector entities at risk from intelligence collection or attack by foreign adversaries, Evanina also oversees various national-level programs, including information technology protection standards and compliance.
Stay tuned to NAFCU Today and follow on Twitter with #NAFCUCaucus for more updates on Caucus speakers.
Related Resources
---
Get daily updates.
Subscribe to NAFCU today.