March 24, 2020
NAFCU advocacy in high gear as lawmakers continue coronavirus negotiations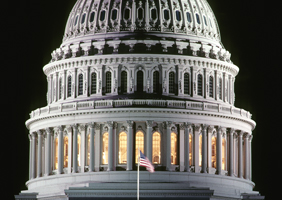 After a failed vote Sunday, the Senate Monday again failed to reach an agreement to move forward with Phase 3 of coronavirus relief provisions – the CARES Act – though Senate Majority Leader Mitch McConnell, R-Ky., and Senate Minority Leader Chuck Schumer, D-N.Y., indicated that discussions on an agreement are continuing.
NAFCU has actively lobbied Capitol Hill and the Trump administration throughout negotiations to ensure credit unions have parity with banks in any relief provisions and that proposals that could harm the credit union industry are not included.
NAFCU Executive Vice President of Government Affairs and General Counsel Carrie Hunt sent a message to credit unions Monday updating members on where Congressional developments currently stand and areas in which NAFCU is pushing for relief. Hunt reiterated NAFCU's concerns about early drafts of the Senate package using a definition of "financial institution" that does not encompass credit unions.
The proposed Senate package – totaling roughly $2 trillion – seeks to provide direct cash payments to Americans, expand protections for workers, support small businesses, increase assistance to the health care system, and provide relief to industries hit hardest by the coronavirus. Lawmakers continue to debate the specifics of several provisions.
In addition to the Senate package, Speaker of the House Nancy Pelosi, D-Calif., announced a House-version of the package Monday. Representatives continue to work in their home districts this week, but are expected to return to Washington whenever they are needed to vote on relief packages.
Lawmakers continue to look at ways to provide consumers, businesses, and financial institutions with relief to support recovery. House Financial Services Committee Members Greg Meeks, D-N.Y., and Blaine Luetkemeyer, R-Mo., the chair and ranking member of the Financial Institutions Subcommittee, Monday sent a letter to the Financial Accounting Standards Board (FASB) urging a suspension – or at least a delay – of the current expected credit loss (CECL) standard.
Similar to arguments made by NAFCU to the president and Congress, the lawmakers highlighted the strain on resources CECL implementation will have on financial institutions, especially smaller ones like credit unions, and argued that it will impede recovery from the coronavirus.
Outside of Congress, federal agencies and regulators continue to move forward with their own relief efforts. The Small Business Administration (SBA) announced Monday that it would be automatically deferring payments on existing SBA disaster loans through the end of the year. The agency previously announced that it would provide disaster loans to small businesses affected by the coronavirus.
The NCUA also released additional guidance for credit unions (read more here), the Federal Reserve took more actions to support the economy (read more here), and the Federal Housing Finance Agency is working to support liquidity in the mortgage market (read more here).
NAFCU will remain engaged and keep credit unions informed of developments. Stay tuned to NAFCU Today and visit the association's coronavirus resource page to easily access all resources.
Related Resources
---
Get daily updates.
Subscribe to NAFCU today.