November 30, 2018
NAFCU Board and staff, at work in Washington, meet with agency leaders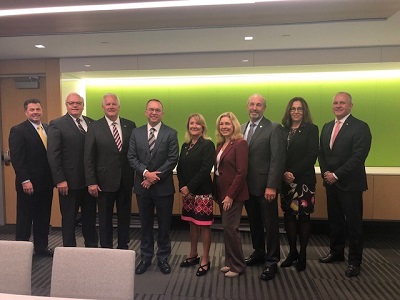 NAFCU – the industry's Washington Watchdog – has been recognized with award-winning advocacy, and while NAFCU lobbyists were having non-stop meetings on Capitol Hill, the association's Board of Directors further showcased this prowess while in Washington this week holding high-profile meetings with leaders of the Bureau of Consumer Financial Protection and Federal Reserve.
In addition to handling necessary board business, the NAFCU Board – met Monday and Tuesday with bureau Acting Director Mick Mulvaney and Fed Vice Chairman of Supervision Randal Quarles to share credit unions' perspective on various initiatives being pursued by the agencies.
Bureau of Consumer Financial Protection
During Monday's meeting with Mulvaney, the NAFCU Board shared credit unions' priorities and regulatory concerns heading into the new year.
The bureau's rulemaking agenda indicates several rulemakings next year covering payday lending, the Home Mortgage Disclosure Act (HMDA), debt collection and the TILA/RESPA integrated disclosure (TRID) rule. NAFCU also recently met with the bureau to discuss qualified mortgages – a rule Mulvaney has indicated the bureau would review to reduce regulatory burden – and has previously outlined credit union issues the bureau should address.
NAFCU is also monitoring the nomination of Kathy Kraninger to lead the bureau; the Senate is expected to vote on her nomination next week.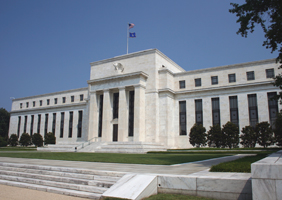 Federal Reserve
The NAFCU Board presented Quarles with findings from the association's recently released 2018 Report on Credit Unions, which shows, among other things, that the credit union industry continues to strengthen and see membership growth, although compliance burdens have led to industry consolidation.
NAFCU Board members gave an overview of key findings, including membership trends, the impact of costly regulations on credit union operations and the intricate relationship between credit unions and technological advancements.
Following discussion of the report, Quarles answered a number of questions and shared some of the economic trends the Fed is monitoring. The group also discussed the Financial Accounting Standards Board's (FASB) current expected credit loss (CECL) standard. NAFCU has previously shared credit unions' concerns regarding implementation of the standard and continues to seek relief; Quarles also recently discussed CECL concerns with lawmakers.
Related Resources
---
Get daily updates.
Subscribe to NAFCU today.