October 22, 2019
NAFCU calls for protections as committee reviews housing finance reform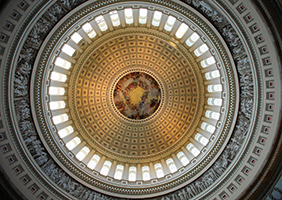 The House Financial Services Committee today will hear from key decision makers on the impact of the Trump administration's housing finance reform plans. Ahead of the hearing, NAFCU's Brad Thaler reiterated the association's housing finance reform principles and called for congressional action to guarantee certain elements.
NAFCU is a leader in ensuring credit unions' access to the secondary mortgage market is maintained in any housing finance reform. NAFCU Executive Vice President of Government Affairs and General Counsel Carrie Hunt testified before the Senate Banking Committee earlier this year on the issue; she stressed fair access, fair pricing, and a government guarantee.
Today's hearing – set to begin at 10 a.m. Eastern – will feature Treasury Department Secretary Steven Mnuchin, Department of Housing and Urban Development (HUD) Secretary Ben Carson, and Federal Housing Finance Agency (FHFA) Director Dr. Mark Calabria. Last month, the White House released plans from Treasury and HUD that would release the government-sponsored enterprises (GSEs) – Fannie Mae and Freddie Mac – from federal control, charter new guarantors to compete with the GSEs, strengthen single-family borrower programs, and more.
Thaler called the reform plans "an important step" and commended other recent actions taken by the FHFA to ensure the GSEs end the practice of volume-based pricing discounts and allow the GSEs to retain more capital. However, he cautioned against additional reforms without legislative action and said Congress should have a role in removing the GSEs from conservatorship in order to protect small lenders.
"Congress should prioritize advancing legislation that provides fair pricing based on quality and not quantity as well as a level playing field that permits equal access to lenders of all sizes through services such as the cash window," Thaler said. "Without such legislative protections, credit unions' access to the secondary market and ability to lend to more members of their communities, particularly those individuals of low- and moderate-income, may be in jeopardy."
In addition, he warned that a multiple-guarantor model could lead to "a race to the bottom" as bank-affiliates and fintech companies could become GSE competitors "and achieve vertical integration in the housing finance market."
"This could reduce access and promote unfair pricing for credit unions and other community financial institutions," Thaler argued. "…[the association] instead supports building upon and improving the GSEs' existing processes, procedures, and technologies to foster competition between the two GSEs."
Related Resources
---
Get daily updates.
Subscribe to NAFCU today.