November 15, 2018
NAFCU, DCUC assist in Habitat NOVA home build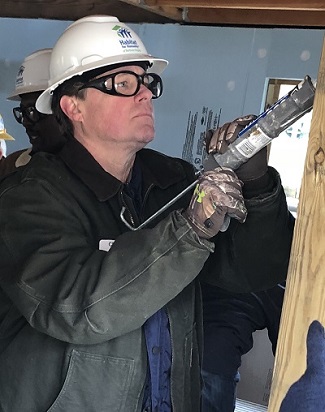 NAFCU's Dan Berger and Defense Credit Union Council's (DCUC) Tony Hernandez were on-site in Alexandria, Va., yesterday with Habitat for Humanity of Northern Virginia (NOVA) to build a home for a wounded veteran and his family and raise awareness about the need for affordable housing.
"It was an honor serving alongside Habitat NOVA, Tony Hernandez and other local CEOs to work on this home going to a well-deserving local family," said Berger, NAFCU's president and CEO. "Credit unions take great pride in developing strong relationships not only with their members, but all who reside in their local communities. We are deeply committed to ensuring families have access to the products and services they most need."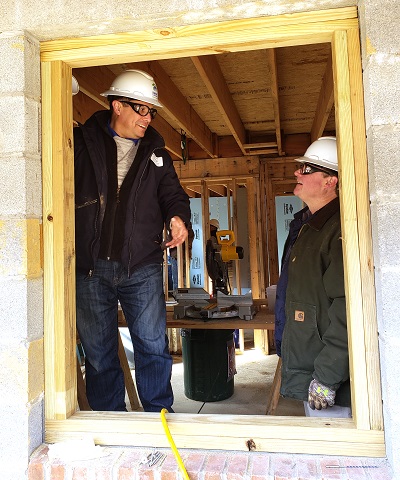 Habitat NOVA is currently constructing its 100th home. The house on which Berger assisted is expected to be completed this coming summer.
Berger, in a live television interview Friday on Washington's WUSA 9, discussed the importance of affordable housing and the work of Habitat for Humanity – especially to those in Northern Virginia, the backyard of many credit unions and NAFCU.
"NAFCU and the credit union community support affordable housing," Berger said during the interview with Great Day Washington. "Habitat for Humanity does such a wonderful job raising awareness for affordable housing. Veterans, servicemembers and their families really need to have that kind of support and Habitat for Humanity does a wonderful job."
Berger also said during Friday's interview, with the recipients of the house, that with all our veterans, servicemembers and their families do, "we have to give back."
 
Alongside Berger and Hernandez, president and CEO of DCUC, other CEO participants in yesterday's build included Freddie Mac, Leidos, HITT Contracting and PenFed Foundation.
NAFCU continues to work with Congress, the administration and other government entities to ensure credit unions can meet their members' home-ownership needs. Additional information on defense credit union issues and housing finance reform are accessible on the association's website.
Related Resources
---
Get daily updates.
Subscribe to NAFCU today.