November 29, 2018
NAFCU, HUD's Carson discuss CU housing priorities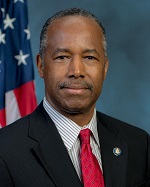 Credit unions' priorities in the housing finance market were discussed during a meeting yesterday between NAFCU and Housing and Urban Development (HUD) Secretary Ben Carson. NAFCU has shared its core principles for housing finance reform with Carson and has urged that any reform efforts include these credit union priorities.
NAFCU President and CEO Dan Berger, Chief Economist and Vice President of Research Curt Long, and NAFCU Senior Regulatory Affairs Counsel Ann Kossachev attended the meeting at HUD's headquarters.
Along with stressing the importance of credit unions' access to the secondary mortgage market, the meeting also addressed credit unions' origination of Federal Housing Administration loans as well as possible reforms being discussed regarding Ginnie Mae. NAFCU also highlighted credit union market trends based on its recently released 2018 Report on Credit Unions.
NAFCU yesterday also discussed HUD's involvement with Community Development Financial Institutions (CDFIs) – particularly in distressed and rural communities.
NAFCU has previously met with Carson and also recently attended a stakeholder update at the department.
The association continues to work with Congress, the administration and other government entities to ensure credit unions have unfettered access to the secondary mortgage market and fair pricing based on loan quality – not quantity – in any housing finance reform efforts.