April 06, 2021
NAFCU, NCUA Chairman Harper discuss CU priorities, concerns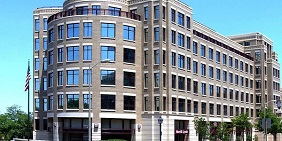 NAFCU President and CEO Dan Berger and NCUA Chairman Todd Harper Monday discussed credit union concerns and priorities on a number of key issues, including the need for increased capital flexibility during the coronavirus pandemic and various opportunities for capital reform. NAFCU Executive Vice President and General Counsel Carrie Hunt and Director of Regulatory Affairs Ann Kossachev also joined the meeting.
Capital flexibility
The NCUA last month unanimously approved an interim final rule (IFR) regarding federally-insured credit unions' (FICUs) asset thresholds.
NAFCU has previously advocated for this flexibility to provide relief for credit unions and parity with a similar rule from the federal banking regulators. As credit unions have seen a large influx of deposits over the past year resulting from coronavirus-related relief efforts and changes in members' financial habits, NAFCU has flagged concerns for credit unions approaching the $10 billion threshold, at which point the CFPB also has supervisory authorities.
Additional investment authorities
The association reiterated the need for additional investment authorities for credit unions amid the pandemic to allow them to better manage the influx of deposits and ultimately provide more products and services to members. NAFCU has advocated for the NCUA to provide credit unions with additional investment authorities to manage share growth rather than assess a National Credit Union Share Insurance Fund (NCUSIF) premium.
Risk-based net worth (RBNW)
NAFCU has previously offered full support for the NCUA's proposed rule to amend its RBNW requirement as the relief provided "will enable credit unions to better prioritize service to members and support lending activities."
The agency's proposal would increase the threshold for defining a complex credit union for purposes of the current RBNW requirement to $500 million and a RBNW requirement that exceeds six percent until the Jan. 1, 2022, effective date of the final risk-based capital (RBC) rule.
In addition, NAFCU has identified two additional opportunities for capital relief, including calling on the agency to reinstate and extend an IFR – which expired Dec. 31, 2020 – that provided prompt corrective action (PCA) flexibility by temporarily waving the earnings retention requirement for any FICU that is classified as adequately capitalized.  The IFR would also permit FICUs to submit simplified net worth restoration plans and attest that its reduction in capital has been caused by share growth resulting from a temporary condition due to the coronavirus pandemic.
NAFCU has led efforts to ensure credit unions and their members benefit from a modern capital regime, working closely with policymakers on Capitol Hill and at the NCUA. The association has also requested that the NCUA permanently grandfather "excluded goodwill" and "excluded other tangible assets" in the RBC calculation and reiterated this position during the meeting.
During the meeting, the group also discussed issues related to credit union exams and opportunities for the agency to support innovation within the industry.
NAFCU will continue to work with the agency and remain in close contact to share credit unions' experiences and concerns as they work to serve members amid the coronavirus pandemic.
Stay tuned to NAFCU Today for the latest developments, and access the association's coronavirus resource page.
Related Resources
NCUA , Examination & Enforcement
Blog Post
Add to Calendar 2021-09-16 14:00:00 2021-09-16 14:00:00 Home Improvement Lending: Tools for Helping Your Members About The Interview The pandemic has impacted almost every facet of the lending space, but home improvement loans in particular have seen a major uptick. We're talking with Paul Borghi, Vice President of Point-of-Sale Lending at LendKey, about the competition among lenders, important trends in the market, the prime borrowers you want to serve, and the best tools to be the go-to for your members. Watch the Webinar On-Demand Web NAFCU digital@nafcu.org America/New_York public
preferred partner
LendKey
Webinar
Strategy, Marketing, Growth & Retention, Customer Engagement, Consumer Lending
preferred partner
Upstart
Blog Post
---
Get daily updates.
Subscribe to NAFCU today.