November 19, 2020
NAFCU Network Spotlight: Q&A with MHV's Steve Carle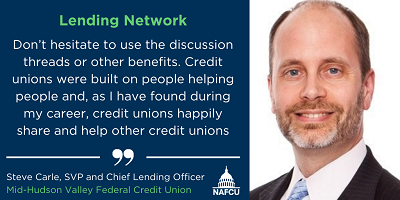 NAFCU's inside look at its seven complimentary, member-only networks continues today with a Q&A featuring Mid-Hudson Valley Federal Credit Union (MHV) Senior Vice President and Chief Lending Officer Steve Carle. The credit union industry is known for its cooperative spirit, which is what makes the Lending Network interactions so strong, Carle says. See what else Carle has to say about how credit union lending professionals can use the network to tackle challenges.
Q: Why did you become a member of the NAFCU Lending Network?
A: NAFCU is an important trade association supporting credit unions that MHV belongs to. As a member credit union, this Lending Network offered an opportunity to exchange questions, ideas, and more with fellow credit unions, which appealed to me.
Q: What would you say is the biggest benefit of participating in the network?
A: To date the discussion threads are of most interest to me. The resource library and direct networking options could be equally important as credit union lending professionals pursue growth opportunities at their respective institutions.
Q: What advice would you give to those who have recently joined the network?
A: Don't hesitate to use the discussion threads or other benefits. Credit unions were built on people helping people and, as I have found during my career, credit unions happily share and help other credit unions.
Q: What do you think will be the biggest challenge facing credit union lending professionals in the next year? How can the network help the industry address it?
A: That's a tough one, I think there are probably many challenges that we are all concerned about as 2021 approaches.
COVID-19 and its continuing impact on our members and our credit union.
On the digital front, are we meeting the digital expectation of our members and making it easier for our members to apply and close their loans?
Other topics of concern are continued competition from fintech's and larger financial institution's, regulation changes, etc.
NAFCU can assist with organizing relevant webinars and partner presentations to educate and demonstrate potential opportunities that can assist member credit unions.
---------------
In addition to the Lending Network, NAFCU has six other credit union profession-specific networks:
Across these seven online communities, more than 12,000 credit union professionals engage in discussion threads, share best practices, and have access to leading industry resources and insights. NAFCU's government affairs team also provides updates on closed-door meetings with regulators, administration officials, and other decision makers, as well as regulatory and legislative developments.
Visit the networks to check out new features such as anonymous posting and most active users.
The NAFCU Networks are free, member-only resources. Register now to join a NAFCU Network, or email NAFCU Senior Member Experience Strategist Allyson Gale. Representatives from NAFCU-member credit unions may use their NAFCU website login to access the network.
The next NAFCU Today spotlight will feature the Marketing & Growth Network.
Related Resources
---
Get daily updates.
Subscribe to NAFCU today.