February 27, 2019
NCUA nominees move closer to confirmation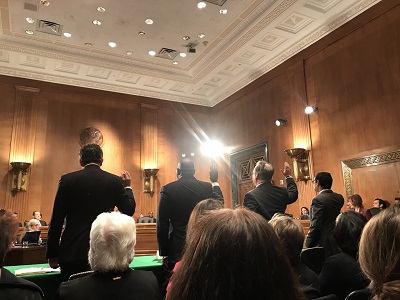 The Senate Banking Committee on Tuesday advanced by voice vote the nominations of Rodney Hood and Todd Harper to serve on the NCUA Board. Dr. Mark Calabria's nomination to lead the Federal Housing Finance Agency (FHFA) was advanced on a 13-12 vote. The nominations now move to the full Senate for confirmation.
Hood previously served on the board from 2005-2010 and, if confirmed, will fill a six-year term that will expire in 2023. This seat will replace Board Member Rick Metsger, whose term expired in August 2017 but has indicated he will serve until his replacement has been confirmed.
Harper previously served as the director of public and congressional affairs and chief policy advisor to the chairman at the NCUA. If confirmed, he will fill a six-year term that expires in 2021; Harper would fill a board seat previously held by former NCUA Chairman Debbie Matz, who left the board in April 2016.
During their recent nomination hearing, both Hood and Harper said they would work to ensure the safety and soundness of the credit union industry if confirmed to serve. Each of them also shared issues they would prioritize, including cybersecurity and efficient regulation. Read a recap of their testimonies here.
Calabria, whom NAFCU has met with several times, would serve a five-year term if confirmed. He addressed recent reports of housing finance reform during his nomination testimony and touched on a number of issues for which NAFCU has advocated.
NAFCU, in a letter to the committee ahead of the nomination hearing, noted Hood's and Harper's understanding of credit union issues and Calabria's qualifications to lead the FHFA.
Related Resources
---
Get daily updates.
Subscribe to NAFCU today.