February 15, 2019
NCUA nominees promote safety, soundness in testimony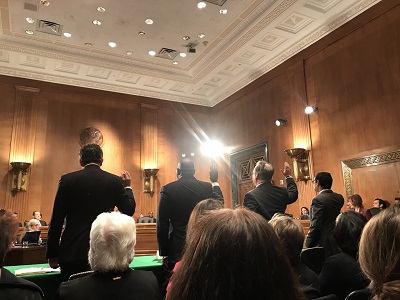 NCUA Board nominees Rodney Hood and Todd Harper testified before the Senate Banking Committee Thursday, and in each of their testimony said they would work to ensure the safety and soundness of the credit union industry if confirmed to serve. The committee also heard from Dr. Mark Calabria, who is nominated as director of the Federal Housing Finance Agency.
In addition, Harper said he would focus on issues of capital, liquidity and cybersecurity, while also prioritizing consumer protection responsibilities statutorily required. He would also work to support small credit unions, minority depository intuitions and low-income credit unions, which he said face challenges of increased competition and limited resources. In order to expand economic opportunity, Harper said NCUA should increase access to affordable financial services for unbanked and underbanked communities.
Hood also discussed increasing access to financial services for rural communities.
Hood, in his testimony, said he would be cognizant of the impact of excessive regulation and work to ensure efficient operations and prudent use of resources. He also noted the importance of transparency and working with Congress to maintain credit unions' financial integrity.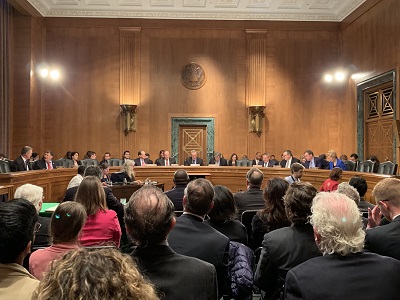 Harper previously served as the director of public and congressional affairs and chief policy advisor to the chairman at the NCUA. If confirmed, he will fill a six-year term that expires in 2021; Harper would fill a board seat previously held by former NCUA Chairman Debbie Matz, who left the board in April 2016.
Hood previously served on the board from 2005-2010 and, if confirmed, will fill a six-year term that will expire in 2023. This seat will replace Board Member Rick Metsger, whose term expired in August 2017 but has indicated he will serve until his replacement has been confirmed.
Harper's prepared testimony is available here; Hood's prepared testimony is available here.
Many of the committee's questions were directed toward Calabria. During his testimony, he addressed recent reports of housing finance reform. He said that he has not seen a plan from the Trump administration to reform the government-sponsored enterprises (GSEs) because he removed himself from internal discussions when it became clear he would be nominated for the FHFA director position. He also said Congress has "fundamental" changes to make in addition to any administrative changes.
Calabria also offered support for GSEs' capital retention, 30-year fixed-rate mortgages and affordable housing goals. NAFCU has offered its general support for the FHFA's proposed capital rule for the GSEs, but recommended the FHFA allow the GSEs to submit capital restoration plans as allowed under the Housing and Economic Recovery Act (HERA) – a provision that makes clear Congress envisioned a path to remove the GSEs from conservatorship. Calabria assisted in drafting HERA and made clear during the hearing that he would follow the text of the statute. The association also met with the FHFA earlier this week to discuss housing goals.
NAFCU has met with Calabria several times, and has previously shared its core principles for housing financial reform that should be included in any final reform measures with lawmakers and numerous officials in the Trump administration. The association's core principles are also cited in a recent report from the Government Accountability Office (GAO) calling on Congress to consider housing finance reform legislation. The GAO report notes the need for safeguards to reduce risk as the GSEs are recapitalized.
The committee on Thursday also heard from Bimal Patel, nominee to be the assistant secretary-designate at the Treasury Department. It will hold another meeting to vote on the nominees; if approved, they will be advanced to the full Senate for confirmation.
Related Resources
---
Get daily updates.
Subscribe to NAFCU today.