November 15, 2018
Quarles quizzed over CECL, BSA concerns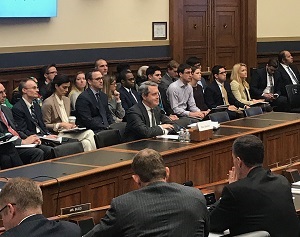 Federal Reserve Vice Chairman of Supervision Randal Quarles acknowledged that implications of the Financial Accounting Standards Board's (FASB) current expected credit loss (CECL) standard aren't completely understood, but said the phased-in implementation of the standard should help mitigate issues.
Quarles was responding to a question from House Financial Services Subcommittee Chairman Blaine Luetkemeyer, R-Mo., who also voiced concerns about the increased costs smaller financial institutions will incur with the CECL standard.
Later during the hearing, Rep. Barry Loudermilk, R-Ga., raised additional concerns about the CECL standard making financial institutions less likely to approve certain loans during economic downturns. Quarles reiterated that the Fed is monitoring both immediate and long-term impacts the standard will have on the banking industry.
NAFCU continues to attend meetings and share credit unions' concerns related to CECL implementation in order to obtain more guidance for the industry on the issue. FASB staff has indicated it is working on certain operational challenges, and FASB is expected to finalize NAFCU-sought changes – including a delay in the standard's effective date for credit unions – yet this year. FASB is offering a webinar Dec. 14 to update private and not-for-profit organizations on various efforts; see the agenda and register for the webinar here.
Many committee members also asked about efforts to reform the Bank Secrecy Act (BSA)/anti-money laundering (AML) regime, out of which Quarles said he expects to see "material benefits." Rep. Gregory Meeks, D-N.Y., brought up "banking deserts" and how difficult it can be for small, community banks and credit unions to serve those areas because of compliance costs. He asked specifically about a recent statement from federal depository institution regulators allowing financial institutions to share BSA/AML resources.
"We are very supportive of efforts both to take advantage of the cost reductions that come from using new technologies and reducing the cost in general of effective BSA/AML compliance," Quarles said while also reassuring that the Fed will work to educate financial institutions on their ability to share resources.
Also discussed during the hearing were efforts to loosen Volcker rule requirements, revise the Community Reinvestment Act (CRA) and the Fed's role in creating a faster payments system.
NAFCU has urged banking regulators to withdraw a proposed rulemaking that would loosen Volcker rule requirements on big banks, arguing that doing so could undermine financial stability. The association has also argued that credit unions should not be subject to the CRA and lawmakers should instead expand the industry's ability to serve underserved areas and make more member business loans.
NAFCU has been active in efforts to improve real-time payments and has encouraged the Fed, through meetings and letters, to play an operational role in a future, faster payments system.
Completing his semiannual report to Congress, Quarles is set to testify before the Senate Banking Committee at 10 a.m. Eastern today.
Related Resources
---
Get daily updates.
Subscribe to NAFCU today.