March 23, 2021
Reg Compliance School back in action with mortgage, consumer loan rules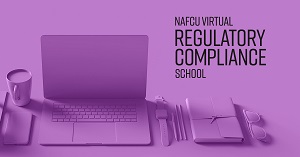 NAFCU's Virtual Regulatory Compliance School resumes today with sessions focused on mortgage origination and consumer lending regulations. In addition, those working to obtain the prestigious NAFCU Certified Compliance Officer (NCCO) designation have more opportunities to take exams.
The additional timeslots and ability to retake exams is to help address challenges of testing in a virtual environment. More details on the exam schedule can be found here, and NCCO seekers also have access to helpful resources that will help them ace their exams.
During today's sessions, attendees will cover:
Truth in Lending Act (TILA)/Real Estate Settlement Procedures Act (RESPA) mortgage origination rules – led by NAFCU Vice President of Regulatory Compliance Brandy Bruyere – including the TILA/RESPA integrated rule (TRID), ability-to-repay (ATR)/qualified mortgage (QM) rule, and loan originator compensation; and
Regulation Z, with Mitchell Sandler LLC's Chris Napier and Shelby Schwartz providing attendees an overview of what the regulation covers, the difference between open-end and closed-end loans, requirements for open-end credit, and special rules for credit cards.
Attendees will also have the ability to participate in two Q&As throughout the day, and those taking the NCCO exams will close out the day with a roundup of what to expect for Exam 3.
Virtual Regulatory Compliance School has sessions through Thursday, with exam testing continuing through Friday (see the full agenda). For those unable to attend the spring event, Regulatory Compliance School will be offered again in August in both virtual and in-person formats.
NAFCU remains committed to providing best-in-class education and training to its members: The association has taken a hybrid approach to several of its conferences to give credit unions the power to choose between in-person and virtual offerings to provide for attendee convenience, safety, and health. See the full conference lineup and register for upcoming events.
Related Resources
Home-Secured Lending
Blog Post
Board and Governance Consumer Lending
Blog Post
Consumer Lending
Blog Post
Consumer Lending
Blog Post
---
Get daily updates.
Subscribe to NAFCU today.