September 30, 2019
This week: Congress in recess; advocacy focused on NDAA, tax exemption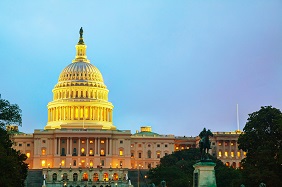 The House and Senate are in their home districts and states as they begin a two-week recess. Amid ongoing attacks from bankers trying to discredit credit unions and the industry's mission, NAFCU is encouraging members to stay in contact with lawmakers to ensure they understand the real credit union difference.
Specifically, there are ongoing efforts by bankers to challenge the credit union tax exemption and seek nominal leases for banks on military leases.
"While the bankers continue to have the gall to attack the credit union tax exemption, they conveniently forget to mention how independent analysis has shown that the fines and settlements for wrongdoing by their members have actually amounted to billions and billions of dollars of tax relief over the years for the nation's largest banks," wrote NAFCU Vice President of Legislative Affairs Brad Thaler in a letter last week to leaders and members of the House and Senate. Thaler also pointed out that banks enjoyed billions in tax breaks from the Tax Cuts and Jobs Act.
In addition, NAFCU is coordinating with the Defense Credit Union Council to share credit unions' concerns about a provision in the Senate-passed FY2020 National Defense Authorization Act that would treat all banks, including large ones like Wells Fargo, the same as local, not-for-profit credit unions when it comes to nominal leases on military bases.
More information and campaigns to contact lawmakers directly on these issues – and more – are available on NAFCU's Grassroots Action Center. This centralized advocacy platform provides credit unions with contact information to contact their elected representatives in Washington and to set up local meetings, background information on the important issues and the tools needed to take action.
Also happening this week:
Related Resources
---
Get daily updates.
Subscribe to NAFCU today.