February 21, 2023
This week: Congress in recess; NAFCU elevates CU priorities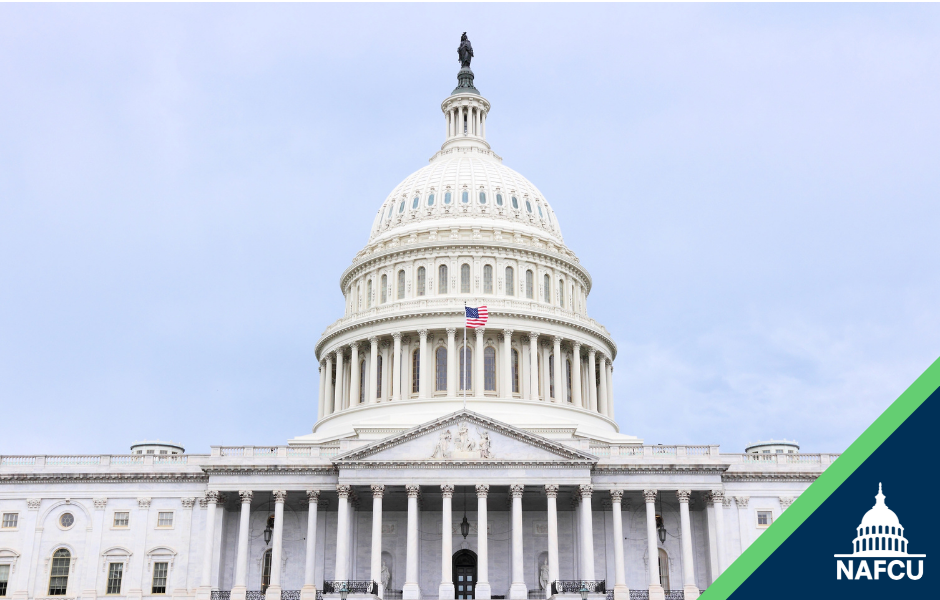 Both the House and Senate are in recess this week, but NAFCU's advocacy team is hard at work elevating credit union priorities in Washington. Of note, the association is raising awareness on the negative impacts of the CFPB's proposed changes to credit card late fees and legislative efforts to put more restrictions on interchange fees.
Credit unions can take the survey to support NAFCU in its advocacy to push back on the bureau's late fees proposal. In addition, the association sent member credit unions a Regulatory Alert detailing the proposal and seeking comments; feedback is critical to NAFCU's efforts to provide a robust response to the proposal.
NAFCU Vice President of Legislative Affairs Brad Thaler Friday alerted member credit unions of potential efforts to reintroduce the misleading Credit Card Competition Act (CCCA) this session, which would extend debit card interchange routing requirements to credit cards. NAFCU's advocacy efforts successfully kept the legislation from being enacted last year. Credit unions are encouraged to use the association's Grassroots Action Center to ask lawmakers to oppose the bill that would hurt consumers and institutions.
The association is also engaged with the NCUA on various issues under consideration by the board. During its meeting last week, the board advanced a NAFCU-sought proposed rule to reform several field of membership requirements and definitions, including language to address survivorship issues that was raised by NAFCU after direct member feedback. NAFCU is also continuing its push for the board to consider additional changes to the interest rate ceiling; the latest Economic & CU Monitor details credit unions' perspective on the issue.
NAFCU's 2023 conference season gets underway in less than a month, and the association's first three events are already sold out. Credit unions looking to stay up-to-date on the latest industry trends and strategies and network with peers are encouraged to register now for remaining conferences, including CEOs and Senior Executives Conference – the detailed agenda was just released – and Engage 2023: NAFCU's Annual Conference.
Also happening this week:
Stay tuned to NAFCU Today for the latest industry news.
Related Resources
---
Get daily updates.
Subscribe to NAFCU today.