October 29, 2018
This week: NAFCU advocacy on Hill continues; meets on faster payments, CECL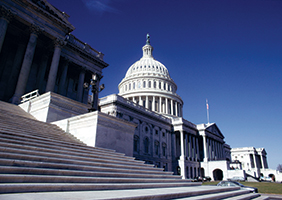 With midterm elections just over a week away, the House and Senate remain out of session. NAFCU's award-winning advocacy team is still active on Capitol Hill on top industry issues including relief under the Bank Secrecy Act, data security and NCUA's risk-based capital (RBC) rule.
NAFCU is encouraging credit unions to reach out to their congressional members and candidates on these issues; NAFCU's website has resources readily available and its Grassroots Action Center has lawmakers' contact information accessible. Credit unions can also learn more about what to expect Nov. 6 with this Q&A with NAFCU Director of Political Affairs Chad Adams.
In addition to advocacy with lawmakers, NAFCU will be representing credit unions' interests at various meetings this week:
Today, NAFCU will meet with Ginnie Mae Acting President Michael Bright (who is awaiting confirmation to fill the role officially). As the administration works on housing finance reform, NAFCU remains engaged with lawmakers and agency officials to advance the association's core principles for housing finance reform. The House is also considering draft legislation that would transform Ginnie Mae's role in the housing finance market and preserve a NAFCU-sought government guarantee to the secondary mortgage market and create more lending opportunities for small lenders. NAFCU President and CEO Dan Berger, Executive Vice President of Government Affairs and General Counsel Carrie Hunt, Vice President of Research and Chief Economist Curt Long, and Senior Regulatory Affairs Counsel Ann Kossachev will attend today's meeting.
Tomorrow, NAFCU Senior Counsel for Research and Policy Andrew Morris will attend the Federal Reserve's town hall in Philadelphia that will discuss the Fed's proposal to create a 24/7/365 real-time settlement service. The Fed released the proposal earlier this month; credit unions can learn more about it and submit comments to NAFCU through its Regulatory Alert. NAFCU continues to be in constant communication with the Fed regarding its work to make the payments system faster and more secure in order to ensure the credit union perspective on any advancements is taken into account.
Thursday, Morris will attend the Financial Accounting Standards Board's Transition Resource Group for Credit Losses, focused on issues that might arise when companies and organizations implement the current expected credit loss (CECL) standard. Last week, FASB agreed to proceed with NAFCU-sought changes to the standard, including delaying the effective date for credit unions, so credit unions do not need to begin reporting data on call reports until the beginning of 2022. NAFCU also sent a letter to the NCUA last week outlining NAFCU's efforts to help address credit unions' CECL concerns and encouraged the agency to work with FASB "to reduce burdens on credit unions and alleviate industry uncertainty."
Also happening this week:
Related Resources
---
Get daily updates.
Subscribe to NAFCU today.