September 15, 2020
CFPB, SBA, FinCEN give updates at Caucus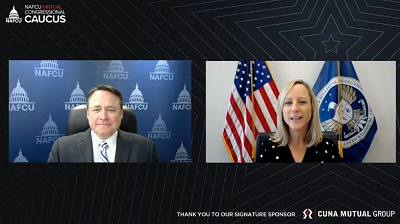 Attendees of NAFCU's Virtual Congressional Caucus Monday got updates directly from key regulatory officials, including Small Business Administration (SBA) Administrator Jovita Carranza, CFPB Director Kathy Kraninger, and Financial Crimes Enforcement Network (FinCEN) Deputy Director Michael Mosier. Here's a look at the issues they covered.
CFPB's Kraninger
Today, the bureau will release its Small Business Regulatory Enforcement Fairness Act (SBREFA) outline of proposals related to Section 1071 of the Dodd-Frank Act, Kraninger announced during a Q&A with NAFCU President and CEO Dan Berger. Kraninger compared it to a business lending version of the Home Mortgage Disclosure Act (HMDA), and added that the very different landscape of business lending has led the bureau to engage in deliberate conversations with stakeholders to determine the best way to move forward.
In a status update released in June, the bureau said the coronavirus pandemic could impact its 1071 rulemaking process. After the outline is released, the bureau will then convene the SBREFA panel, which includes credit union representatives. NAFCU has urged the bureau to exempt credit unions from a rulemaking on this issue, as it will add significant regulatory burdens on small institutions.
In addition to discussing Section 1071, Berger also asked Kraninger about its approach to HMDA and the qualified mortgage (QM) rule. On HMDA, Kraninger said the bureau is committed to transparency and usability, ensuring data collected helps consumers better understand the mortgage market and the data collection process isn't too burdensome for financial institutions. She noted that the bureau is engaged in tech sprints to meet these objectives.
On QM, Kraninger outlined the bureau's process to propose a new general definition of a QM under the Truth in Lending Act (TILA) by replacing the current 43 percent debt to income (DTI) threshold with a price-based threshold. She said the price-based approach meets the statutory ability-to-repay (ATR) requirements but is more holistic than the DTI ratio. While the bureau is currently assessing comments received on the proposal, she expects the final rule to be issued in the next few months. NAFCU has urged the bureau to include a modified DTI and allow for compensating factors in its final rule.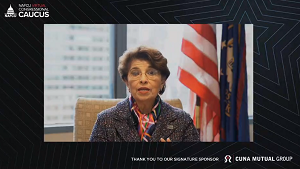 SBA's Carranza
Highlighting the Strategic Alliance Memorandum (SAM) signed by NAFCU and SBA last year, Carranza said the agency's partnership with credit unions sped up amid the coronavirus pandemic as the industry stepped up to "fill the gap in [paycheck protection program (PPP)] lending" and provided "a lifeline for distressed businesses coast to coast."
Carranza called credit unions "frontline heroes" as it relates to saving the economy and putting the country on a strong path to recovery. She highlighted that credit unions issued more than 200,000 PPP loans, with 80 percent being less than $50,000 – meaning that they went to the smallest businesses hit hardest by the pandemic. She also touted that credit unions' PPP loans accounted for more than 1 million jobs.
While acknowledging the bumpy rollout of the PPP, Carranza thanked NAFCU for serving as a "trusted voice" for its members and said the program "will be remembered as one of the most successful and consequential" in response to the crisis.
NAFCU continues to advocate for PPP improvements to be made in future coronavirus relief packages, including a simplified loan forgiveness process for loans under $150,000, and will continue to share credit unions' perspective with the SBA and Congress. The association's PPP FAQs can be accessed here.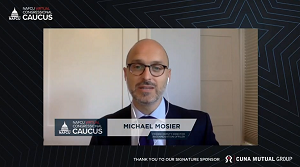 FinCEN's Mosier
Cybercriminals are taking advantage of the coronavirus pandemic. That was Mosier's key message during his Caucus address. Mosier highlighted the agency's efforts to keep financial institutions informed of COVID-19 fraud trends, including medical scams, imposter scams, and more, and enforce Bank Secrecy Act (BSA) requirements.
He noted that between Feb. 1 and Aug. 22, more than 73,000 suspicious activity reports (SARs) have been filed that cited coronavirus-related fraud schemes. Of those, credit unions filed 17 percent. He noted that unemployment fraud is a top trend, and many credit union SARs mentioned money mules moving fraudulent unemployment funds to organized crime rings. As credit unions continue to work with FinCEN to detect and deter pandemic-related fraud, he encouraged them to be as specific as possible in SARs filings to ensure the agency can work efficiently and effectively with law enforcement to respond.
Mosier also touted the important role credit unions specifically play in BSA reporting and enforcement. He shared an anecdote of one Utah credit union that coordinated with FBI and FinCEN on a case where a law firm was targeting distressed homeowners with false promises of loan modifications and legal representation. As a result of the credit union's cooperation, eight subjects were charged in a scheme in which losses exceeded $42 million and more than 15,000 victims nationwide were identified.
"What you do is important and makes a real difference in people's lives," he said.
NAFCU's Virtual Congressional Caucus continues today. Stay tuned to NAFCU Today for recaps from the event and follow #NAFCUCaucus on Twitter for live highlights.
Related Resources
---
Get daily updates.
Subscribe to NAFCU today.