March 08, 2019
CU issues raised during House panel hearing with Kraninger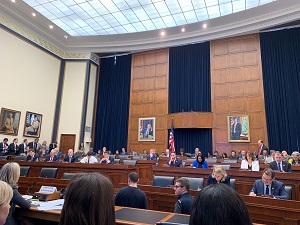 A number of issues important to credit unions were raised during Thursday's House Financial Services Committee hearing with CFPB Director Kathy Kraninger, including reforms to the bureau, its consumer complaint database and the Military Lending Act (MLA). NAFCU attended the hearing.
Committee Ranking Member Patrick McHenry, R-N.C., during the hearing said the bureau should be subject to the congressional appropriations process and its structure should be reformed from a single director to panel of commissioners. NAFCU has long supported both of these reforms.
Kraninger was also asked by committee members about the bureau's consumer complaint database and the MLA. NAFCU has previously told the bureau that unverified complaint information
should not be publicly published
in order to reduce the risk of reputational harm. On MLA, Kraninger in January asked Congress to pursue legislation to
give the bureau clear authority
to supervise institutions for compliance with the MLA. Former bureau Acting Director Mick Mulvaney said the CFPB would stop examining lenders for compliance because the bureau lacks oversight authority. Whether the bureau's approach to MLA oversight will change in the meantime is not clear. NCUA's 
2019 supervisory priorities
 do include examining for compliance with the MLA, as well as additional resources related to its requirements. As credit unions continue to grapple with the parameters of the MLA rule, NAFCU has a host of resources 
available here
 and an updated version of its 
Military Lending Act Guide
. NAFCU President and CEO Dan Berger
met with Kraninger
earlier this week
;
Berger has communicated credit unions' concerns and priorities with Kraninger since she was confirmed as director in December. Following Kraninger's confirmation, NAFCU hand delivered a letter with 
bureau-specific priorities
, and Kraninger followed up on the letter with a call to Berger to 
further discuss credit union priorities
. NAFCU also attended a financial services industry 
roundtable with Kraninger
 in January.
Related Resources
---
Get daily updates.
Subscribe to NAFCU today.