March 05, 2020
CUs get updates on CECL, FOM, more at MDI Forum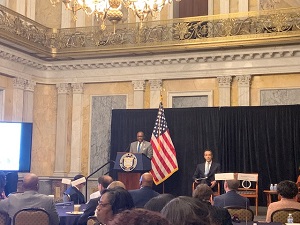 At the NCUA's Minority Depository Institution (MDI) Forum this week, credit unions received key updates on the agency's efforts to provide more guidance under the current expected credit loss (CECL) standard and to create more opportunities for credit unions to serve underserved communities.
NAFCU Director of Regulatory Affairs Ann Kossachev and Executive Vice President of Government Affairs and General Counsel Carrie Hunt attended the forum, which was held in partnership with the Treasury Department and its Freedman's Bank Forum.
Here are a few updates from NCUA Chairman Rodney Hood, Board Member Todd Harper and other agency staff credit unions should be aware of:
CECL:

NAFCU is leading efforts to obtain more relief and guidance for credit unions under CECL and had requested the NCUA consolidate all official information related to CECL in a single source. The agency at its February board meeting – where it also finalized the interagency policy statement – indicated it would create a dedicated webpage with more guidance for credit unions. The website is expected to be finished by the end of the month and will include links to Financial Accounting Standards Board (FASB) materials, more on the interagency policy statement, and webinars.

FOM:

Following the NCUA's win in the lawsuit brought by the American Bankers Association challenging the agency's 2016 field of membership (FOM) rule, the NCUA in October proposed a rule to address concerns brought by the court. The agency at the forum said it is working on two Letters to Credit Unions related to adding underserved areas for multiple common bond credit unions and community FOM conversions or expansions, which would potentially address expectations for business and marketing plans which were proposed in October's rule.

FOM III:

With the lawsuit largely behind them, the NCUA is now working to draft an FOM III rule (the second set of reforms were passed in June 2018), which aims to provide more opportunities for community chartered credit unions to serve members. NAFCU continues to support the NCUA's efforts to modernize and streamline FOM and chartering procedures.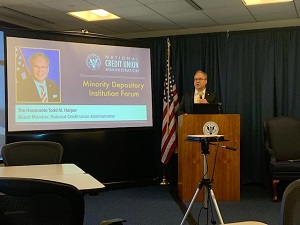 At the Treasury's Freedman's Bank Forum, CFPB Director Kathy Kraninger spoke Tuesday and gave an update on the bureau's Start Small, Save Up initiative. NAFCU has pledged to promote financial literacy and ensure credit unions' members can reach their financial goals by working closely with credit unions, lawmakers and regulators. Throughout America Saves Week last week, the association touted financial literacy programs of member credit unions.
Tuesday also featured panels with federal banking regulators who discussed the importance of preserving MDIs, and other industry stakeholders on how innovation can help financial institutions reach more Americans, business lending, and more.
Harper, during his remarks Wednesday, urged attendees to continue to complete the voluntary Credit Union Diversity Self-Assessment to evaluate their institution's diversity programs and practices. He also offered his support for initiatives to support MDIs with training, loans, grants, and mentorships.
A NAFCU witness in October testified before a House Financial Services subcommittee on the important role MDIs have in serving diverse and underserved communities and also recommended ways to allow credit unions to serve even more communities in need. The association will continue to support efforts that allow credit unions to grow to better serve members.
Related Resources
---
Get daily updates.
Subscribe to NAFCU today.