March 03, 2021
Lawmakers cover several CU issues in hearing with CFPB nom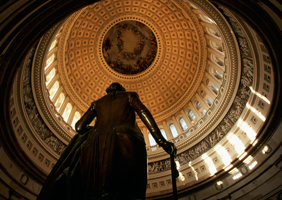 The Senate Banking Committee Tuesday heard from Rohit Chopra, President Joe Biden's nominee to lead the CFPB, and his priorities for the bureau should he be confirmed. Chopra discussed the financial impact the coronavirus pandemic is having on consumers and flagged home foreclosures, loan defaults, and errors in credit reporting as some of the issues he's watching.
The committee also heard from Gary Gensler, who's nominated to serve on the Securities and Exchange Commission, during Tuesday's hearing.
During the hearing, Ranking Member Pat Toomey, R-Pa., and Sen. Steve Daines, R-Mont., raised concerns with the bureau's single-director structure and lack of congressional oversight as the bureau is not subject to the appropriations process. NAFCU has long advocated that the bureau's leadership structure should be reformed to a commission-based model to ensure transparency and stability, and has also offered support for bringing it under the congressional appropriations process.
Last year, the Supreme Court found that the bureau's "leadership by a single individual removable only for inefficiency, neglect, or malfeasance violates the separation of powers."
In addition, lawmakers raised several other issues that impact credit unions, including:
NAFCU works closely with the bureau to ensure credit unions' concerns are considered in its regulatory efforts.
Get daily updates.
Subscribe to NAFCU today.