December 27, 2019
NAFCU's 2019 resources keep CU industry growing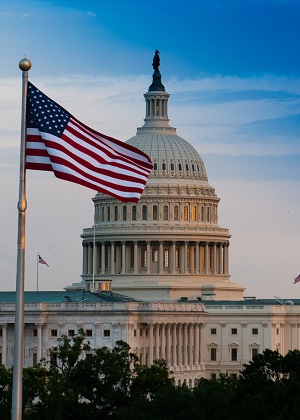 In addition to advancing credit union issues on Capitol Hill in 2019, NAFCU produced forward-thinking resources to connect the industry and decision makers on trends and developments impacting operations, including outlining industry priorities and changing environments related to data privacy, marijuana banking, fintech, and more.
Data Privacy
Earlier this month, the association published a white paper detailing its data privacy principles. NAFCU is a leader in calling for national data security standards and its data privacy principles – which garnered national attention as lawmakers debated legislation on the issue – bolster its advocacy efforts on the issue.
"Between massive data breaches and widely publicized scandals involving the misuse of consumer data, the need for laws that protect the privacy of consumer data is very clear," said NAFCU President and CEO Dan Berger on the release of the white paper. "However, we are headed in a direction that will lead to a patchwork of 50 state privacy laws, which is unworkable for credit unions and confusing for consumers. A national data privacy standard would help ensure consumers' privacy is fully protected, while also continuing to foster innovation and help grow our economy. NAFCU looks forward to working closely with lawmakers as they look to reform our outdated policies."
The white paper emphasizes the need "for a comprehensive federal data privacy standard that protects consumers, harmonizes existing federal data privacy laws, and preempts state privacy laws." It also dives into current privacy laws that have impacted credit unions, including the European Union's General Data Protection Regulation and the California Consumer Privacy Act (CCPA), which takes effect Jan. 1, 2020. More information on the CCPA can be found in this Compliance Blog post.
Marijuana Banking
While NAFCU has not and will not take a position on the legalization or decriminalization of marijuana, the association has a number of resources on the issue and continues to encourage Congress to consider legislative complexities as several states have legalized the drug.
In November, NAFCU released an updated issue brief that provides credit unions with comprehensive, up-to-date information on federal legislative efforts and state-level marijuana laws. The association has also produced a pros and cons document to help credit unions determine if serving marijuana-related businesses (MRBs) is right for their institution, and wrote a Compliance Blog post, article in its monthly Compliance Monitor newsletter and a feature in its bimonthly magazine tackling the issue.
Earlier this year, the House passed the bipartisan Secure and Fair Enforcement (SAFE) Banking Act, designed to provide a safe harbor for credit unions and other lenders that serve MRBs in states that have legalized the drug. However, the Senate has yet to take up the legislation and Senate Banking Committee Chairman Mike Crapo, R-Idaho, recently requested public feedback on legislative components.
Fintech
As the financial industry sees the entrance of more technology to support its services and products and tech companies seeking to provide financial services to consumers, NAFCU developed a white paper to chart a path towards regulatory coordination between traditional financial institutions and fintech companies. NAFCU is active in the fintech landscape: The association has worked closely with the Federal Reserve and other stakeholders on making the U.S. payments system faster and more secure, and is also a member of two blockchain consortia to give credit unions direct access to use cases being developed.
The white paper includes an overview of political and regulatory efforts related to fintech, and also recommends the Federal Financial Institutions Examination Council (FFIEC) – which is comprised of five banking regulators, including the NCUA and CFPB, and state regulator representatives – form a subcommittee on emerging technology to monitor risks posed by fintech companies and develop a joint approach for facilitating innovation.
Berger shared the white paper with regulators and has also met with Google executives as the tech company launches a checking account in partnership with Citigroup and Stanford Federal Credit Union.
Credit Union Landscape
Each year, NAFCU publishes its Annual Report on Credit Unions, which details the latest issues and trends affecting credit unions as the industry continues to grow and strengthen, despite regulatory burdens and challenges.
Members of NAFCU's Board of Directors met with Federal Reserve Board Governor Michelle Bowman to share findings from the report and discuss other industry trends. Berger also sent the report to key agencies that impact credit unions, including the Treasury Department, Federal Housing Finance Agency, Financial Crimes Enforcement Network, NCUA, CFPB, Federal Communications Commission, and Small Business Administration.
The 2019 report covers:
credit union financial conditions and their role in the economy;
credit union service to members;
trends in credit union membership;
NAFCU policy priorities; and
financial technology.
NAFCU has myriad other advocacy, compliance, and education resources available on its website. The association will continue to engage with lawmakers, regulators, and administration officials to ensure credit unions' voices are heard at the highest levels of government.
Related Resources
---
Get daily updates.
Subscribe to NAFCU today.