December 26, 2019
NAFCU, as CUs' Washington Watchdog, secures key meetings in 2019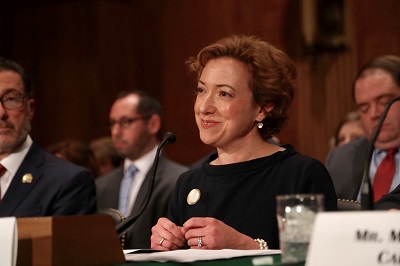 As the industry's Washington Watchdog, NAFCU meets regularly with key regulators, lawmakers, and administration officials to ensure credit unions' voices are heard at the highest levels of government. In 2019, the association secured numerous meetings to discuss industry priorities, including housing finance reform, regulatory relief, examinations, payments, small business lending, and more.
In addition to meeting with decision makers, NAFCU also submitted a number of comment letters on these issues and more. Here's a look at some of the agencies and officials NAFCU and credit unions met with this year (visit NAFCU's Facebook page to see pictures from these meetings and more):
White House
NAFCU President and CEO Dan Berger and Executive Vice President of Government Affairs and General Counsel Carrie Hunt met at the White House in March to discuss credit union priorities, including housing finance reform and regulatory relief, and learn more about the administration's efforts on key issues. In 2018, NAFCU secured credit unions' first meeting with President Donald Trump.
Congress
NAFCU kicked off 2019 with a Capitol Hill blitz, meeting with numerous lawmakers to share its priorities for the year, of which credit union growth is No. 1. NAFCU also had the opportunity to meet with lawmakers directly on:
NCUA
NAFCU's advocacy with new NCUA Board Chairman Rodney Hood and Member Todd Harper began immediately after the two took their positions in April and continued steadily throughout the year. In addition to sharing the association's priorities, NAFCU met with the NCUA to discuss various issues, including:
CFPB
CFPB Director Kathy Kraninger took the lead at the bureau in late 2018. Berger met with Kraninger in March to discuss ways to reduce credit unions' regulatory burden. The association also met with the bureau in 2019 on:
Federal Reserve
NAFCU's Board of Directors meets annually with the Federal Reserve, meeting this year with Federal Reserve Board Governor Michelle Bowman to share the association's 2019 Report on Credit Unions as well as CECL, cybersecurity and more.
In addition, Long, NAFCU's chief economist and vice president of research, led meetings with several Federal Reserve Banks – New York, Chicago, St. Louis, Boston, and Minneapolis – and member credit unions to discuss fintech, payments, and economic trends.
FCC
NAFCU continues to seek guidance and relief under the TCPA to ensure credit unions can contact members with important financial information without fear of breaking the law. Early in the year, NAFCU met with staff from Federal Communications Commission (FCC) Chairman Ajit Pai's office and the FCC's Consumer and Governmental Affairs Office. Ahead of Congress passing a bill to target illegal robocalls last week, Berger met directly with FCC Commissioner Michael O'Rielly to discuss the FCC's efforts to modernize the TCPA.
Treasury Department, FHFA, GSEs
As a leader in housing finance reform, NAFCU stayed closely connected with key leaders in this space throughout the year ahead of the Treasury Department releasing its plans. Of note:
Congressional Caucus
NAFCU's Congressional Caucus in September brought dozens of regulators, administration officials, and lawmakers together with hundreds of credit union leaders to discuss issues affecting the industry. Credit unions also held a record number of meetings on Capitol Hill with members of Congress during the week. In addition to Calabria, NAFCU's Caucus featured:
In addition to these meetings, NAFCU continued to strengthen its relationships with the SBA (in meetings and with a new Strategic Alliance Memorandum) and Financial Crimes Enforcement Network, and Berger attended the Global Inclusive Growth Summit with other purpose-driven leaders to explore challenges and strategies in building an inclusive digital economy.
Stay tuned to NAFCU Today for more on the association's advocacy efforts and accomplishments in 2019.
Related Resources
---
Get daily updates.
Subscribe to NAFCU today.