January 30, 2023
Reg Z, BSA, Reg E among top compliance concerns in 2022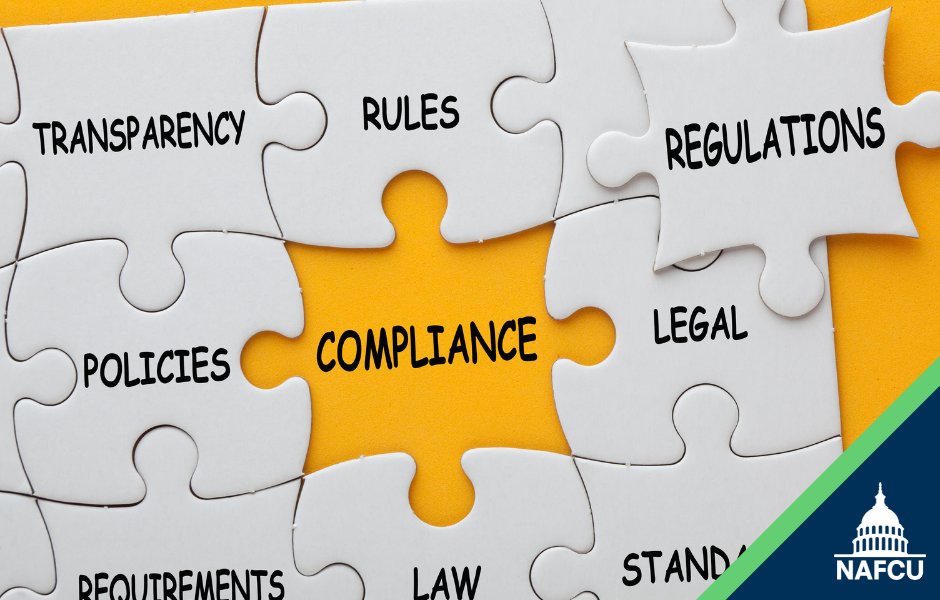 NAFCU's mission is to provide its credit union members with the industry's best advocacy, compliance assistance, and educational resources. The association's award-winning Compliance Team demonstrates that member-focus daily – in 2022, the team answered 6,175 questions from credit unions, responding within one business day, for an average of 25.5 questions per day.
Regulation Z was the hottest topic of the year as credit unions sought disclosure-related resources for lending products, including credit cards and home equity lines of credit, as well as guidance on advertising.
In addition, Bank Secrecy Act (BSA) and Regulation E were the top non-lending issues credit unions sought NAFCU resources on.
NAFCU is closely monitoring CFPB efforts related to Regulation E; Senior Regulatory Compliance Counsel Rebecca Tetreau last week presented on the issue at the American Bar Association's Financial Services Committee meeting and the association has various advocacy and compliance resources available.
The Compliance Team publishes a quarterly BSA Blast with the latest industry activity and insights. The Q4 edition reviews ransomware trends, 314(b) information sharing to combat terrorist financing, and the Financial Crimes Enforcement Network's (FinCEN) rulemaking efforts to implement the Corporate Transparency Act.
Credit unions in need of compliance assistance can access NAFCU resources anytime online, or by reaching out to the Compliance Team directly via email or at (877) 623-2887.
The association also hosts its Regulatory Compliance School annually – and also has a virtual option available – as well as a BSA School, Risk Management Seminar, and Lending Conference. Credit unions can also subscribe to NAFCU's Online Compliance Training – one subscription allows the entire staff access to online compliance education anytime, anywhere, year-round.
Related Resources
Add to Calendar 2023-03-20 14:00:00 2023-03-20 14:00:00 Liquidity Considerations in Light of Silicon Valley Bank As the financial industry is discussing the ramifications of the recent closings of Silicon Valley Bank (SVB) and Signature Bank, many are asking themselves, "Where do we go from here?" This is an opportunity to take a step back and evaluate your institution's next steps in this rapidly changing environment. The combination of mindset, critical thinking, and an understanding of the potential impact of different scenarios has increased in importance.  In this webinar, Liquidity Considerations in Light of Silicon Valley Bank, your questions and concerns will be addressed about short-term and long-term liquidity management and analysis, opportunities and risks that could arise from member actions, and the importance of maintaining trust and communication with your members throughout this wild ride.    Key Takeaways Heighten your thought process and strategies regarding the position of your credit union and considerations around potential actions Understand how evaluating your liquidity, ranging from expectations to stress events, from 3 levels helps you gain perspective on how much you may directly control, versus liquidity that is reliant on others Explore examples of critical thinking around the potential outcomes that you may want to examine FREE FOR ALL   Register NowOne registration gives your entire team access to the live webinar and on-demand recording until March 20, 2023.Go to the Online Training Center to access the webinar after purchase »   Who Should Attend C-suite Executive vice presidents Education Credits NCRMs will receive 1.0 CEUs for participating in this webinar Web NAFCU digital@nafcu.org America/New_York public
Credits: NCRM
Webinar
---
Get daily updates.
Subscribe to NAFCU today.