June 22, 2020
This week: NAFCU monitoring NDAA markups, CFPB reform, NCUA meeting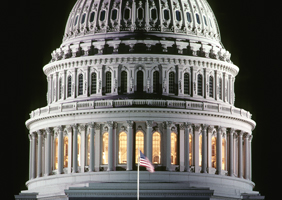 NAFCU's award-winning advocacy team remains actively engaged on Capitol Hill this week as lawmakers tackle several issues that could impact the credit union industry. In addition, the association's landmark virtual State of the Industry is happening Thursday – registration is still available for this complimentary event.
While the Senate remains in session, the House is expected to return to Washington for floor votes this week – a week earlier than the previously announced schedule.
The House Armed Services subcommittees will begin marking up the fiscal year 2021 National Defense Authorization Act (NDAA) this week, with the full committee markup scheduled for July 1. Ahead of the markups, NAFCU partnered with the Defense Credit Union Council (DCUC) and CUNA to ensure a provision that could disadvantage credit unions – as it would treat all banks, including large ones like Wells Fargo, the same as local, not-for-profit credit unions when it comes to nominal leases on military bases – is not included in the legislation.
NAFCU consistently advocates against this bank-sought provision in the NDAA and successfully kept it from being included in a final version of the bill last year. The association also reiterated its longstanding call ahead of the Senate Armed Services Committee's markup of the bill; a summary of the package indicated that the committee has included language on this issue once again this year.
Other hearings to note this week:
NAFCU will also continue to advocate in support of legislation to reform the CFPB's single-director structure to a bipartisan commission; NAFCU-sought bills have been introduced in both chambers. The U.S. Supreme Court could issue as soon as today its decision in the lawsuit brought by Seila Law challenging the CFPB's single-director structure.
The association is also monitoring efforts by Congress, the Small Business Administration, and Treasury Department to continue supporting small businesses impacted by the coronavirus pandemic. Last week, bills were introduced that would allow small businesses hardest hit to receive a second loan through the paycheck protection program (PPP). NAFCU also continues to advocate that PPP loans under $150,000 be granted automatic forgiveness to reduce burdens on borrowers and lenders.
Off Capitol Hill, NAFCU will watch the NCUA Board meeting Thursday; the board is set to issue a request for information related to the future of exams and supervision using digital technology, a final rule on technical amendments, and a proposed rule on risk-based net worth. Read more here.
Also happening this week:
NAFCU's Online Training Center is down today and tomorrow as it gets upgrades to give credit unions easier access to new content and improve the overall user experience; and
registration remains open for upcoming webinars part of NAFCU's Roadshow series.
Related Resources
---
Get daily updates.
Subscribe to NAFCU today.