October 09, 2018
This week: NAFCU's award-winning advocacy continues, senators talk blockchain, EU's GDPR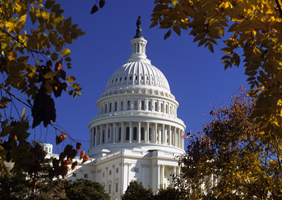 House members remain in their home districts this week as the Senate continues work in Washington. NAFCU encourages credit unions to set up meetings with lawmakers while they are gearing up for the mid-term elections to talk about issues facing the industry; meanwhile, NAFCU continues its award-winning advocacy efforts on Capitol Hill.
In recent weeks – as a result of NAFCU and credit union advocacy – Congress has made progress on credit union priorities including data security and regulatory relief, and also left the industry's tax-exempt status untouched in its second push for tax reform. NAFCU is also fighting against efforts to wrap credit unions into the Community Reinvestment Act, and is instead asking that credit unions' ability to serve underserved areas be expanded as well as their capacity to make more member business loans.
Furthermore, the association is pushing for the withdrawal of a proposed rulemaking that would loosen Volcker rule requirements on big banks.
For those credit unions looking to reach out to their lawmakers, NAFCU's website has resources available on top industry issues, and its Grassroots Action Center has lawmakers' contact information readily accessible.
On Capitol Hill this week:
The Senate Commerce, Science, and Transportation Committee on Wednesday will review consumer data privacy by examining lessons from the European Union's General Data Protection Regulation (GDPR) and the California Consumer Privacy Act. NAFCU has detailed the GDPR – including its implications on credit unions – in the association's Compliance Monitor, and through various Compliance Blog posts and webinars.
The Senate Banking Committee on Thursday will explore the cryptocurrency and blockchain ecosystem during a hearing. NAFCU has partnered with Hyperledger – a leading blockchain consortium that includes some of the largest technology and financial services companies in the world. The association has also joined Enterprise Ethereum Alliance (EEA), an industry-supported, not-for-profit established to build, promote and broadly back Ethereum-based technology best practices, open standards and open-source reference architectures.
Also this week, NAFCU's Regulatory Compliance Seminar and Fall Regulatory Compliance School are happening in San Antonio, Texas. (Read more here)
As a reminder, credit union CFOs and other finance executives are encouraged to register for NAFCU's inaugural Credit Union CFO Summit; use code CFOSAVINGS to save $200 off registration through Oct. 26. The new event is happening Dec. 5-6 in Fort Lauderdale, Fla.
Related Resources
---
Get daily updates.
Subscribe to NAFCU today.