December 05, 2019
CECL, serving communities in need discussed by Hood, FI regulators at hearing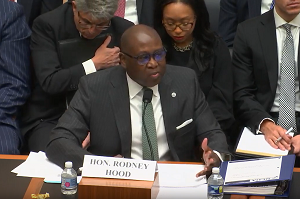 NCUA Chairman Rodney Hood and other financial regulators testified before the House Financial Services Committee Wednesday sharing insights into the safety and soundness of the U.S. financial system and how institutions are prioritizing diversity and inclusion in financial services.
Ahead of the hearing, which also featured FDIC Chairman Jelena McWilliams and Federal Reserve Vice Chair for Supervision Randal Quarles, NAFCU shared with lawmakers its advocacy priorities and issues the association would like the NCUA to address.
The current expected credit loss (CECL) standard and NCUA's risk-based capital (RBC) rule were among issues flagged by NAFCU that lawmakers inquired about during the hearing.
CECL:

Several lawmakers asked how the regulators plan to address implementation of the standard and mitigate potential negative impacts. As the implementation date is now delayed – to 2023 for credit unions – regulators indicated their intent to phase-in the standard's negative impact on net worth ratios. According to the NCUA's fall rulemaking agenda, the agency plans to propose a rule in January to adopt this approach. NAFCU has previously met with NCUA on this issue and will continue to work with the agency, the Financial Accounting Standards Board, and lawmakers to obtain more relief and guidance for credit unions.

RBC:

Rep. Alma Adams, D-N.C., asked Hood about the NCUA's delay of its RBC rule, which the board could finalize at next week's board meeting (agenda will be released later today) making the effective date Jan. 1, 2022. Hood said credit unions' net worth ratio is strong and delaying the rule wouldn't cause safety or soundness issues, while it would give the NCUA Board more time to explore innovative solutions to capital reform.
In addition to these issues, a large portion of the discussion was focused on ensuring all Americans, including minority and underserved communities, have access to financial services. The discussion covered topics such as Minority Depository Institutions (MDIs), the Community Reinvestment Act (CRA), payday lending, and second chance initiatives.
During his testimony, Hood also defended recent bank sales to credit unions, which he noted are voluntary and protect consumers in those communities from being left without access to financial services and therefore vulnerable to predatory practices. He reiterated credit unions' limitations related to field of membership, capital retention, and member business lending, and that their growth and competitiveness in the market can be attributed to their safe, affordable products and services and community involvement. He also touted credit unions' leadership in supporting members with emergency financial services during government shutdowns before regulators instructed them to.
Hood, McWilliams, and Quarles are set to testify today before the Senate Banking Committee; NAFCU again shared credit unions' priorities with lawmakers ahead of the hearing. It is set to begin at 10 a.m. Eastern.
Get daily updates.
Subscribe to NAFCU today.