June 05, 2019
June 12: Get updates on CECL, BSA/AML, marijuana banking, more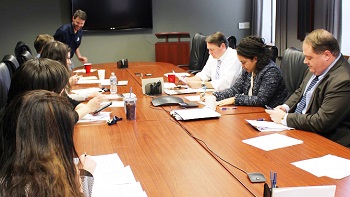 NAFCU President and CEO Dan Berger and senior leaders of the association's award-winning advocacy team next week will give members an update on key credit union issues, including the current expected credit loss (CECL) standard, Bank Secrecy Act (BSA)/anti-money laundering (AML) regime, marijuana banking and more.
The Q2 Member Call-In is slated to begin at 4 p.m. Eastern June 12. This member-only benefit is free, but registration is required.
Here's an update on some hot-button issues that will be further discussed during the member call-in:
CECL: NAFCU last week released a new CECL FAQ document to help credit unions as they prepare to implement the standard. Despite concerns from lawmakers and others about the impact CECL could have on financial institutions and the economy, the association believes it is likely that all credit unions will be required to comply with the standard in 2022. The association is also engaged as Congress considers legislation to halt CECL's implementation, and continues to share its concerns about the standards with the Financial Accounting Standards Board (FASB), NCUA and lawmakers.
BSA/AML: The Financial Crimes Enforcement Network launched an Innovation Hours Program, aimed at strengthening financial institutions' AML compliance programs and supporting innovative solutions to compliance challenges (learn more in NAFCU's Compliance Blog). Lawmakers also continue to work on legislation related to modernizing the BSA: The Senate Banking Committee recently held a hearing on FinCEN's, the Treasury Department's and FBI's efforts to combat illicit finance, and the House Financial Services Committee last month advanced a bill to reduce the burden of filing suspicious activity reports and currency transaction reports.
Marijuana banking: In March, the House Financial Services Committee advanced to the full House a bill designed to provide a safe harbor for credit unions and other lenders that serve marijuana-related businesses (MRBs) in states that have legalized the drug. A report from the Congressional Budget Office determined that enacting this bill into law would increase insured deposits at credit unions by $350 million in the next decade. The House Appropriations Committee is also currently considering a provision within the fiscal year 2020 financial services and general government funding bill that would protect financial institutions that provide services to MRBs from federal penalties by entities funded by the bill.
Members will also get updates on other issues – and more – including:
Members can submit questions in advance during the registration process, or live during the Q&A portion of the call.
Related Resources
---
Get daily updates.
Subscribe to NAFCU today.