February 05, 2020
NAFCU at FHFA on manufactured housing issues as agency works to end conservatorships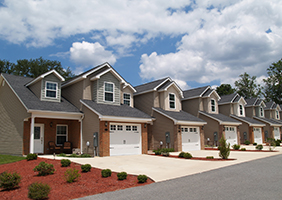 NAFCU Director of Regulatory Affairs Ann Kossachev met Tuesday at the Federal Housing Finance Agency (FHFA) to discuss the agency's efforts to address housing needs in underserved markets, specifically manufactured housing. The meeting, focused on chattel lending, featured FHFA Director Mark Calabria, senior FHFA staff, and other stakeholders.
Under the FHFA's final duty-to-serve rule, government-sponsored enterprises (GSEs) Fannie Mae and Freddie Mac are required to adopt plans to improve the distribution and availability of mortgage financing for residential properties that serve very low-, low- and moderate-income families in three specified underserved markets: manufactured housing, affordable housing preservation and rural housing.
In December 2017, the FHFA released the GSEs' Underserved Markets Plans for 2018-2020, which included their launch into chattel loan pilot programs. Prior to the release of the plans, NAFCU commented on the proposal and requested that the FHFA closely evaluate the GSEs proposals with regard to the regulatory activities laid out in their plans – including chattel lending and the purchasing of affordable housing and rural housing loans from small financial institutions – to ensure that "credit unions' vital role in these markets is recognized and their access to the secondary mortgage market is expanded."
Also of note, the FHFA announced this week that it has hired a financial advisor – Houlihan Lokey Capital, Inc. – "to assist in the development and implementation of a roadmap to responsibly end the conservatorships of Fannie Mae and Freddie Mac."
NAFCU works closely with the FHFA and Calabria on various housing issues: After the Treasury Department and Department of Housing and Urban Development released housing reform plans in September, Calabria spoke at NAFCU's 2019 Congressional Caucus to update credit unions directly on the plans. NAFCU and member credit unions met with Calabria in June on various GSE and housing reform issues, and NAFCU met again with Calabria in October to discuss was to preserve credit unions' access to the secondary mortgage market through the GSEs. 
Since the release of the reform plans, the FHFA has indicated it will re-propose a rule setting capital requirements for the government-sponsored enterprises, released the GSEs' strategic plan and scorecard, and reached a deal with the Treasury to allow the GSEs to retain more capital. NAFCU testified before the Senate Banking Committee in March 2019 on the issue and continues to urge legislative action.
Related Resources
---
Get daily updates.
Subscribe to NAFCU today.