December 17, 2020
NAFCU Network Spotlight: Q&A with Oregon State CU's Craig Cole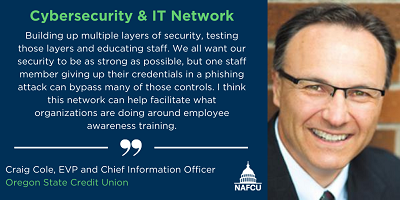 NAFCU's inside look at its seven complimentary, member-only networks continues today with a Q&A featuring Oregon State Credit Union Executive Vice President and Chief Information Officer Craig Cole. See how Cole thinks the Cybersecurity & IT Network can help strengthen protocols across the industry.
Q: Why did you become a member of the NAFCU Cybersecurity & IT Network?
A: A desire to have a peer group to share ideas with. Cybersecurity is getting so complex and critical at the same time. It is a great forum to get a different perspective on an issue.
Q: What would you say is the biggest benefit of participating in the network?
A: Peer group interaction, which helps avoid the problem of "recreating the wheel" on issues that others may have already faced.
Q: What advice would you give to those who have recently joined the network?
A: Get involved and not be hesitant to post a question or reply to a question with your experience.
* For those concerned about posting sensitive issues for feedback, a new feature on the networks allows users to post anonymously to ensure credit unions can still get needed insights from peers.
Q: What do you think will be the biggest challenge facing credit union cybersecurity and IT professionals in the next year? How can the network help the industry address it?
A: Building up multiple layers of security, testing those layers and educating staff. We all want our security to be as strong as possible, but one staff member giving up their credentials in a phishing attack can bypass many of those controls. I think this network can help facilitate what organizations are doing around employee awareness training.
---------------------------------------------
In addition to the Cybersecurity & IT Network, NAFCU has six other credit union profession-specific networks:
Across these seven online communities, more than 12,000 credit union professionals engage in discussion threads, share best practices, and have access to leading industry resources and insights.
NAFCU's government affairs team also provides updates on closed-door meetings with regulators, administration officials, and other decision makers, as well as regulatory and legislative developments.
The NAFCU Networks are free, member-only resources. Register now to join a NAFCU Network, or email NAFCU Senior Member Experience Strategist Allyson Gale. Representatives from NAFCU-member credit unions may use their NAFCU website login to access the network.
Stay tuned to NAFCU Today for more insights into the networks.
Related Resources
---
Get daily updates.
Subscribe to NAFCU today.