March 11, 2019
This week: NAFCU, CUs advocate for industry on ADA, housing finance reform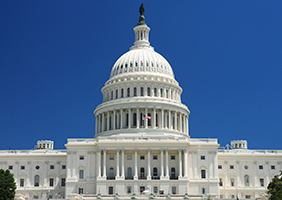 NAFCU's award-winning advocacy team will be busy on Capitol Hill this week. On the docket: ADA and the Department of Justice, housing finance reform and the Treasury Department, HMDA, the NCUA Board, many congressional hearings, and more. Here's what's happening:
On the administrative side
NAFCU's advocacy team secured a listening session for member credit unions to discuss today the Americans with Disabilities Act (ADA) landscape with the Department of Justice (DOJ), and NAFCU will meet Friday with Treasury Department staff to discuss housing finance reform efforts.
NAFCU has been active on website accessibility issues under the ADA for more than a year, seeking guidance from the DOJ as credit unions have faced meritless lawsuits due to unclear requirements. Learn more about the listening session here.
The association has also led efforts to ensure credit unions' unfettered access to the secondary mortgage market in any housing finance reform, and has urged the Trump administration and Congress to work together on a comprehensive solution. Federal Housing Finance Agency Acting Director Joseph Otting recently made comments about the administration's and Treasury Department's work on a housing finance reform plan; NAFCU is set to meet with Otting soon and last month reiterated its core principles for housing finance reform to him. NAFCU has previously met with Treasury Department Secretary Steven Mnuchin and Counselor Craig Phillips to discuss these efforts and share the association's core principles for housing finance reform. NAFCU Vice President of Legislative Affairs Brad Thaler, Director of Regulatory Affairs Ann Kossachev and Associate Director of Legislative Affairs Alex Gleason will attend Friday's meeting.
President Donald Trump is expected to release his FY2020 budget request as early as today. The budget request will outline the administration's funding priorities, which likely will include its principles for housing finance reform.
On the regulatory side
The NCUA Board on Thursday will issue a final rule to reform loans and lines of credit to credit union members (read more here) and the Credit Union Advisory Council (CUAC) has the Home Mortgage Disclosure Act (HMDA) and consumer reporting trends on its agenda for Thursday (read more here).
On the legislative side
Here's a quick rundown on the hearings members will want to pay attention to:
The National Flood Insurance Program (NFIP)
The House Financial Services Committee meets Wednesday to discuss reauthorization of the program, which is set to expire May 31. Ahead of the hearing, Committee Chairwoman Maxine Waters, D-Calif., released a discussion draft of bipartisan legislation that would propose some reforms aimed at making flood insurance more affordable and provide reauthorization for five years.
NAFCU has pushed for a number of improvements to the National Flood Insurance Program (NFIP), including allowing private policies to fulfill the federal flood insurance mandate, increases in coverage limits, capping premiums and rates, and updating federal flood mapping procedures.
Financial Crimes
Three hearings – two in the House and one in the Senate – will discuss efforts to detect and deter financial crime. A House Appropriations subcommittee tomorrow will specifically look at the Treasury Department's role in combatting financial crimes, and the Senate Small Business Committee on Wednesday will examine cyber crime's threat to small businesses.
A House Financial Services subcommittee on Wednesday will focus on legislative solutions to detect and deter financial crime. Waters released a discussion draft to make changes to anti-money laundering (AML) safeguards and Committee Member Carolyn Maloney, D-N.Y., has a draft bill to require corporations to disclose more information about their owners.
A NAFCU witness has previously testified on the need for Bank Secrecy Act(BSA)/AML reforms, and the association is supportive of proposed legislation that would provide some relief to credit unions by raising certain thresholds, including for currency transaction (CTR) and suspicious activity reports (SAR).
CFPB
The Senate Banking Committee tomorrow will hear from CFPB Director Kathy Kraninger as she delivers the bureau's semiannual report to Congress. Kraninger testified before the House Financial Services Committee last week and discussed a number of credit union issues, including reforms to the bureau, its consumer complaint database and the Military Lending Act (MLA).
Last week, NAFCU President and CEO Dan Berger met with Kraninger to discuss the bureau's rulemaking initiatives and share how the bureau could reduce credit unions' regulatory burden. Berger has communicated credit unions' concerns and priorities with Kraninger since she was confirmed as director in December: Following Kraninger's confirmation, NAFCU hand delivered a letter with bureau-specific priorities, and Kraninger followed up on the letter with a call to Berger to further discuss credit union priorities. NAFCU also attended a financial services industry roundtable with Kraninger in January.
Other hearings NAFCU will monitor this week:
On NAFCU's calendar
NAFCU has a number of webinars happening this week – see what's coming up and register for them through the association's Online Training Center.
Get daily updates.
Subscribe to NAFCU today.