November 15, 2018
8 CU issues worth a second look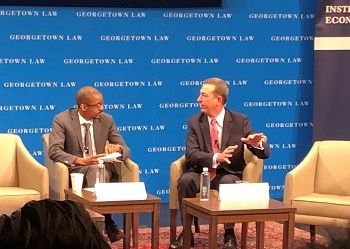 In addition to meeting with lawmakers on Capitol Hill, NAFCU's award-winning advocacy team regularly meets with key regulators and administration officials, and attends events covering critical issues affecting credit unions. See what the industry's Washington Watchdog has been working on lately.
Qualified mortgages
Today, the association will meet at the Bureau of Consumer Financial Protection to discuss qualified mortgages (QM). Earlier this year, Acting Director Mick Mulvaney indicated that the bureau would review its QM rule as part of efforts to "look at unduly and overly burdensome regulations." NAFCU in July included making permanent the government-sponsored enterprise (GSE) QM category on its list of priorities for the bureau (read more here).
NAFCU Senior Counsel for Research and Policy Andrew Morris will attend today's meeting, along with other financial trade groups.
Housing finance reform
Last week, NAFCU went to the Department of Housing and Urban Development's (HUD) headquarters to hear from Secretary Ben Carson and Federal Housing Administration (FHA) Commissioner Brian Montgomery. Also last week, Montgomery indicated that the FHA could finalize its rule to relax restrictions for agency-backed condominium loans yet this year during a Women in Housing and Finance lunch, attended by NAFCU.
Fintech
Morris last week attended various sessions at DC Fintech Week, including one featuring Comptroller of the Currency Joseph Otting. Otting said the Office of the Comptroller of the Currency (OCC) would likely reveal special-purpose national bank charters applications from fintech companies by the end of the year or early 2019. The agency in July said it would move forward with the charters – a move supported by NAFCU.
Faster payments
Also at a DC Fintech Week session attended by Morris, Treasury Department Counselor Craig Phillips indicated that the department is coordinating with other regulators to develop cryptocurrency policy and reiterated the importance of the U.S. modernizing its payment systems. Phillips referenced the Federal Reserve's proposal to develop a 24/7/365 RTGS (real-time gross settlement) service to facilitate interbank settlement of faster payments (read more about the proposal and submit comments to NAFCU here).
The U.S. Faster Payments Council (FPC) also launched this week, which NAFCU previously offered recommendations to strengthen. NAFCU is in close communication with the Federal Reserve as it works to make the payments system faster and more secure.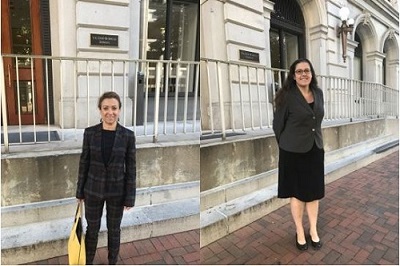 Americans with Disabilities Act (ADA)
NAFCU Executive Vice President of Government Affairs and General Counsel Carrie Hunt and Vice President of Regulatory Compliance Brandy Bruyere recently attended oral arguments held by the U.S. Court of Appeals for the Fourth Circuit in the case against the Department of Labor Federal Credit Union (DOLFCU) regarding unclear website accessibility standards under the ADA. NAFCU has also filed an amicus brief in support of DOLFCU, and also stood by the credit union during its first hearing earlier this year.
Telephone Consumer Protection Act (TCPA)
Following a meeting last month with the Federal Communications Commission's (FCC) Consumer and Government Affairs Bureau, NAFCU Senior Regulatory Affairs Counsel Ann Kossachev reiterated to the FCC NAFCU's request for more flexibility under the TCPA to ensure credit unions can contact their members with important information without fear of violating the law.
Current expected credit loss (CECL) standard
As credit unions wait for substantive guidance on the CECL standard, NAFCU has attended Financial Accounting Standards Board (FASB) and Transition Resource Group for Credit Losses meetings, including one earlier this month to gain insights on issues that might arise when companies and organizations implement the standard. FASB recently agreed to proceed to a vote to finalize NAFCU-sought changes, including a delay in the standard's effective date for the industry.
Small business loans
NAFCU Regulatory Affairs Counsel Kaley Schafer is actively working on the association's goal of improving access to credit union small-dollar loans to small businesses across the nation through various meetings with the Small Business Administration (SBA). Last week, Schafer attended a small business roundtable to discuss the SBA's proposed changes to 7(a) Express loans. Schafer also recently met with the SBA's Office of Capital Access to discuss credit unions' participation in SBA programs.
Related Resources
---
Get daily updates.
Subscribe to NAFCU today.