October 28, 2020
Ahead of election, NAFCU pushes for more CU wins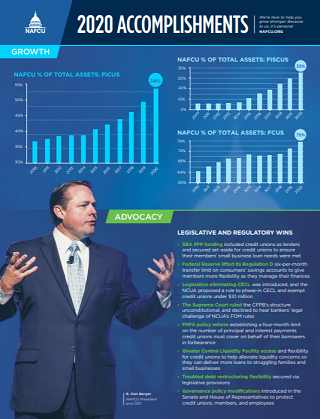 Although 2020 has been a year of challenges, NAFCU and the credit union industry have achieved several wins as they've worked to obtain a more efficient regulatory environment and better serve the industry's 122 million members amid the coronavirus pandemic. With the presidential election less than a week away, here's a look at key issues and how NAFCU will keep fighting for credit unions.
Advocacy is a key component of NAFCU's mission to strengthen the credit union industry. Credit unions are encouraged to bolster the association's efforts by staying up-to-date on the latest issues that could impact operations and members and in contact with lawmakers to ensure they understand how their decisions impact the industry. NAFCU's Grassroots Action Center allows credit unions to contact representatives and senators directly, as well as learn more about candidates and legislation. The association also has pages dedicated to key issues for more information.
Key advocacy wins
Securing regulatory relief and flexibility for credit unions is a top priority for NAFCU and became even more important during the past nine months as the industry faced operational challenges stemming from shutdowns and social distancing requirements, as well as strategic ones in light of members' financial hardships.
NAFCU's efforts:
See highlights of NAFCU's and credit unions' 2020 accomplishments.
Looking ahead
While negotiations on a possible Phase 4 relief package continue, NAFCU has kept credit union priorities top of mind, including:
providing relief from credit unions' member business lending (MBL) cap so they can provide more credit to small businesses impacted by the coronavirus pandemic;
providing emergency funding for the Community Development Financial Institutions (CDFI) Fund and Community Development Revolving Loan Fund (CDRLF) to better serve underserved and lower-income communities;
extending several provisions included in the CARES Act related to the NCUA's CLF, troubled debt restructurings, deposit insurance, CECL, and capital flexibility; and
simplifying the PPP loan forgiveness process for loans under $150,000 and addressing the issue of economic injury disaster loan (EIDL) advances being deducted from a borrower's forgivable PPP amount.
NAFCU is also watching for Congress to address several other issues during the lame duck session:
Stay tuned to NAFCU Today for the latest developments out of Washington.
Related Resources
Add to Calendar 2020-12-01 09:00:00 2020-12-01 09:00:00 Beyond the Pandemic Risk Series [Part 1]: Pandemic-Related Lending Portfolio Risks Listen On: Key Takeaways: [08:05] The most critical data that you can get your hands on would be any data that would provide you early indicators that there is going to be a delinquency issue. [10:35] One non-negotiable is that credit unions have a monitoring program that allows them to understand your risk exposure at any point in time.   [13:57] Right now we can't under-score social media; because we all interact virtually, there is a lot of good analytic and trending data that can be provided via social media. As long as you are doing that in a compliant and appropriate manner.   Web NAFCU digital@nafcu.org America/New_York public
Growth & Retention, Risk Management, Consumer Lending, Data and Analytics
preferred partner
Allied Solutions
Podcast
---
Get daily updates.
Subscribe to NAFCU today.