August 12, 2019
NAFCU advocacy gears up for Caucus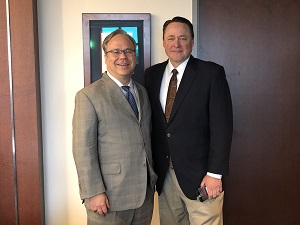 In less than a month, hundreds of credit union representatives will descend on Capitol Hill to advocate on key issues during NAFCU's Congressional Caucus. While Congress is currently in its August recess, the association's award-winning advocacy team continues to meet with legislative staff on Capitol Hill to secure speakers and is encouraging credit unions to meet with lawmakers while they're in their home districts and states.
NAFCU has a stellar lineup ready for Caucus – happening Sept. 8-11 – including renowned journalists Gretchen Carlson and Major Garrett, President Donald Trump's Acting Chief of Staff and Director of the Office of Management and Budget Mick Mulvaney and Federal Housing Finance Agency Director Mark Calabria.
In addition to the keynote speakers and administration officials, NCUA Board Chairman Rodney Hood and prominent lawmakers are set to address credit union representatives throughout the week. A notable addition to the lineup is:
NCUA Board Member Todd Harper, who joined the board earlier this year. NAFCU President and CEO Dan Berger met with Harper in April to discuss the association's priorities for the board. Harper has stressed the need for the agency to be innovative, inclusive and independent, and said he plans to focus on capital, liquidity and cybersecurity, as well as consumer protection duties and access to affordable credit for unbanked and underserved consumers.
This week, NAFCU is monitoring the House and Senate's selection of conferees who will reconcile the fiscal year 2020 National Defense Authorization Act (NDAA). The Senate-passed version included a NAFCU-opposed provision that would treat big banks the same as a military installation's local, not-for-profit credit union; NAFCU efforts kept this provision out of the House bill. The association's advocacy team is sharing credit unions' concerns about this potential change and will work to ensure it is not included in the final version of the bill, just as it did last year.
NAFCU also continues to gather support for legislation that would give the NCUA greater flexibility in setting loan maturity limits under the Federal Credit Union Act, and another bill that would exclude veterans' loans from credit unions' member business lending cap.
Credit unions are encouraged to use the association's Grassroots Action Center to learn more about these issues and find contact information to connect with their representatives and senators at home during the remaining weeks of August recess.
These issues and more – such as data security, faster payments, the current expected credit loss standard and marijuana banking – will be among topics covered at Caucus.
Of note, Friday is the deadline to nominate a credit union champion for NAFCU's 2019 Paul Revere Award, which will be presented during Caucus. Credit unions are also reminded to setup Capitol Hill meetings with their representatives and senators; NAFCU has a Hill visit form available here.
Related Resources
---
Get daily updates.
Subscribe to NAFCU today.